Najee Richardson nicknamed "The Philly Phoenix", is a Fitness Coach from Philadelphia Pennsylvania. Najee first competed in Pittsburgh in American Ninja Warrior 7 where he was one of the many athletes that failed Snake Crossing in Qualifying.
In his second year of competing on American Ninja Warrior he competed in his hometown of Philadelphia in American Ninja Warrior 8. In Philadelphia Qualifying, he cleared the course with the 5th fastest time and moved onto the city finals. In the city finals, Najee failed the Stair Hopper but he placed 6th overall in the top 15 and advanced to the Vegas finals. In the national finals, Najee finished Stage 1 with 8.01 seconds remaining. On the second stage, he cleared the Giant Ring Swing but he failed the all new Down Up Salmon Ladder.
Najee returned to compete in American Ninja Warrior 9 where he completed the Cleveland Qualifying course placing 6th. In the city finals, Najee tried an unorthodox technique on the Nail Clipper which ultimately caused him to fail. However, he still placed 13th overall punching his ticket to the National finals. In Vegas Najee cleared Stage 1 with 27.21 seconds left. He was only one of 3 people to clear Stage 2, finishing with 20.29 seconds remaining. but he fell on the Ultimate Cliffhanger on Stage 3.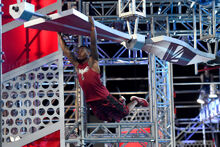 | ANW | | Restlut | Note |
| --- | --- | --- | --- |
| 8 | | Failed Down Up Salmon Ladder (Second Stage) | Failed on transition to second wall set |
| 9 | | Failed Ultimate Cliffhanger (Third Stage) | |
Ad blocker interference detected!
Wikia is a free-to-use site that makes money from advertising. We have a modified experience for viewers using ad blockers

Wikia is not accessible if you've made further modifications. Remove the custom ad blocker rule(s) and the page will load as expected.