Nagano Makoto's Slider Jump Attempt is one of the rare happenings in SASUKE where a competitor was granted another shot on an obstacle or a stage due to miscommunication or technical problem.
First Attempt
In SASUKE 23, Nagano Makoto showed great speed in the First Stage until the Slider Jump, where he could have failed for the second consecutive time.
Protest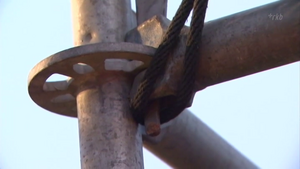 However Nagano claimed that the rope holding the bar didn't extend. When the judges checked Nagano's fall, they realized that Nagano was right. The wire holding the pipe got caught on the framework of the obstacle and did not allow the pipe to reach the end of the track.
Second Attempt
After approximately 43 minutes of repairs, Nagano was given a second attempt and finished the stage with 15.79 seconds remaining. Also it had been announced that Nagano was given the nickname, Mr. SASUKE. From then on, he made it all the way to his fifth appearance on the Final Stage.
Ad blocker interference detected!
Wikia is a free-to-use site that makes money from advertising. We have a modified experience for viewers using ad blockers

Wikia is not accessible if you've made further modifications. Remove the custom ad blocker rule(s) and the page will load as expected.