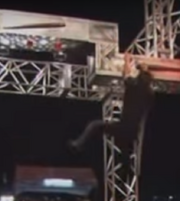 In SASUKE 18, the first competition after Nagano's
kanzenseiha
, the whole course was redesigned. A new obstacle called the Shin- Cliffhanger was one of them. In this obstacle, the second ledge was made to go upwards for which the third ledge was at a distance.
Nagano was the first person to attempt this obstacle, and as soon as he tried to grab the third ledge, he accidently got hold of the top of the frame with one hand. Thus Nagano was said to be course out and he was disqualified. He was offered a rerun by the producers, but declined because he felt he didn't deserve another try.
To avoid more disqualifications, panels were attached to the top of the frame in the next competition.
Ad blocker interference detected!
Wikia is a free-to-use site that makes money from advertising. We have a modified experience for viewers using ad blockers

Wikia is not accessible if you've made further modifications. Remove the custom ad blocker rule(s) and the page will load as expected.