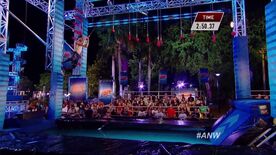 The Minefield is an obstacle, firstly introduced as the eighth obstacle on American Ninja Warrior 6 during Miami finals.
Competitors must make their way over the water, hanging from some of the twelve dangling shape-grips. There were eight cannonballs (which would be later used in the Cannonball Incline), two nunchucks, and two cones (similar as the one used in the Spikes Into Cargo). Once the competitors progressed the obstacle far enough, they could make the dismount to the landing platform.
This obstacle eliminated several competitors, including Jonathan Brown and Matt Zacharkow, and caused problems for some competitors like JJ Woods, who had an early dismount and almost fell off at the landing platform. During Miami finals, the obstacle became the cut off for advancing to Las Vegas national finals.