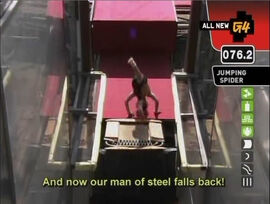 Minami Yoshihiro (南 誉士広) is an action actor, who has competed twice and is best known for his SASUKE 19 performance.
In SASUKE 19, Minami showed good speed, beating the first three obstacles in decent time. Then, on the Jumping Spider, he was able to hit the trampoline well enough and stick to the walls. However, he felt that he would fall off, so he jumped off the walls and did a backflip landing with one foot on the trampoline. Surprising everyone, even himself, he tried the obstacle again and cleared. He wore #43 and was the first one shown to clear the Jumping Spider that day (Okuyama Yoshiyuki at #39 was the first to clear the obstacle but was all cut). He also was the first one to fail the new Half-Pipe Attack. He slipped on the actual half-pipe and only was able to get one hand on the rope, and he quickly fell into the water.
He also competed in SASUKE 21, but was all cut. From the comments in his blog, it was revealed that he failed the Log Grip due to the modifications made since he beat it in SASUKE 19.
Results
| SASUKE | # | Result | Notes |
| --- | --- | --- | --- |
| 19 | 43 | Failed Half-Pipe Attack (First Stage) | |
| 21 | 66 | Failed Log Grip (First Stage) | All Cut |
Ad blocker interference detected!
Wikia is a free-to-use site that makes money from advertising. We have a modified experience for viewers using ad blockers

Wikia is not accessible if you've made further modifications. Remove the custom ad blocker rule(s) and the page will load as expected.