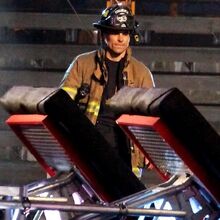 Michael Bernardo (Washington, D.C.) - Mike is a firefighter/paramedic in the District of Columbia. He is originally from Cleveland, Ohio, where he worked as a paramedic. He has competed in every season of American Ninja Warrior since American Ninja Warrior 2. He first advanced to the semifinals in American Ninja Warrior 4, in which he completed the Northeast Qualifying round, advancing in the top 30, but was one of many people to fail the trampoline jump to the Jumping Bars in the finals. He then came back for American Ninja Warrior 5 in Baltimore, where he passed the qualifying round. However, in the finals, he failed the Rumbling Dice when he tried to dismount too early. While he was not part of the top 15, he advanced to the National Finals as a wild card. In his first appearance in the National Finals, he failed the Half-Pipe Attack in the First Stage.
He came back for American Ninja Warrior 6 and competed in St. Louis, but shocked everybody by failing the Cross Bridge when he tried an unorthodox way of attempting it and slipped on the second platform.
In American Ninja Warrior 7, he competed in the Pittsburgh regional. Bernardo completed the city qualifying course and failed the Doorknob Arch in the city finals, which was good enough to advance to the National Finals in Vegas. In the National Finals, Bernardo cleared the First Stage for the first time but failed the Roulette Row in the Second Stage. This was the farthest he has gone.
In American Ninja Warrior 8, Bernardo failed on Rolling Thunder at the Philadelphia Qualifying Round, when he dismounted too early and therefore, the tips of his feet touched the water. Bernardo put up a good time, though, and was able to make it to the finals. In the city finals, Bernardo manged to defeat the obstacle he failed on in Qualifying and advance all the way to the Stair Hopper before failing. However, he finished fifth overall and qualified to Vegas for the second consecutive year. In the Vegas finals, he shockingly failed the second obstacle, the Propeller Bar, like many that day. He failed the dismount.
in American Ninja Warrior 9, Bernardo competed in Cleveland and completed the qualifying course placing 9th. in the city finals, his run was digested but it was shown that he failed the Nail Clipper. He did place 8th in the top 15 and moved on to the National Finals.
| ANW | # | Result | Notes |
| --- | --- | --- | --- |
| 5 | 15 | Failed Halfpipe Attack (First Stage) | |
| 7 | | Failed Roulette Row (Second Stage) | |
| 8 | | Failed Propeller Bar (First Stage) | |
Ad blocker interference detected!
Wikia is a free-to-use site that makes money from advertising. We have a modified experience for viewers using ad blockers

Wikia is not accessible if you've made further modifications. Remove the custom ad blocker rule(s) and the page will load as expected.