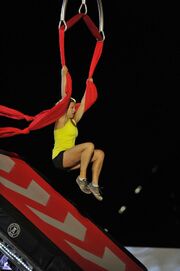 Melanie Hunt is a teacher who competed in the Northeast Qualifying Round and Baltimore Qualifying Round of American Ninja Warrior, in the years 2012 and 2013. In 2012, she failed the 2nd obstacle, the Log Grip, and in 2013, she failed the Downhill Jump, which was also the 2nd obstacle. In 2014, she beat the 2nd obstacle for the first time and became one of the few women to make it to the Warped Wall. She was a wildcard and she was one of two women who made it to the Jumping Spider and fail. In 2015, she competed in Pittsburgh, her run was cut, but she got revenge on the Log Grip. Unfortunately, she lost her balance on Snake Crossing. In Team Ninja Warrior, Thomas Stillings stated that she was an 5 time veteran which means she competed in ANW 8 in Philadelphia but her result is unknown as her run was cut.
Ad blocker interference detected!
Wikia is a free-to-use site that makes money from advertising. We have a modified experience for viewers using ad blockers

Wikia is not accessible if you've made further modifications. Remove the custom ad blocker rule(s) and the page will load as expected.