Matthew Derouen is a Electronic Technician, rock climber and professional Dodgeball player from St. Louis, MO. His first season competing, he posted up the second fastest time (1:11.94) in the 2012 Midwest region, and in the finals, he posted the fastest time (2:25.28) and locked himself a spot in Vegas. In the Las Vegas Finals, his number was 96, so his expectations were high, but he tripped up on the 3rd step of the Step Slider and ended up failing there, stunning many.
He returned back in American Ninja Warrior 5, where he competed in Denver. There, he was one of the Top 48 to clear the course. In the Denver Finals, his run was cut. But he athletes made it to the Salmon Ladder. In American Ninja Warrior 6, he was a tester for the course in St. Louis. He didn't compete in American Ninja Warrior 7.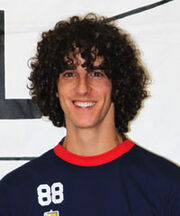 ANW4 Failed Step Slider (First Stage)
Ad blocker interference detected!
Wikia is a free-to-use site that makes money from advertising. We have a modified experience for viewers using ad blockers

Wikia is not accessible if you've made further modifications. Remove the custom ad blocker rule(s) and the page will load as expected.