The Lumberjack Climb (ランバージャッククライム) is an obstacle, firstly introduced in SASUKE 30, which replaced the Rope Ladder which had been the final First Stage obstacle since SASUKE 18. It was removed in SASUKE 35 indirectly by the Dragon Glider due to space constrain.
Like the Rope Ladder, this obstacle does not use the Tarzan Rope to traverse the obstacle. But instead, competitors must use their hands and feet (similar to the Spider Flip, I-Beam Cross or I-Beam Gap) to climb a plank with a length of 5.4m (6m in broadcast).
Once the competitor is on the obstacle, the landing platform of the Tarzan Rope is pulled away, similar to the landing platform of the obstacle before the Salmon Ladder is pulled away, when the competitor is on the obstacle (as was shown during Darvish Kenji's run in SASUKE 33, where he fell into the water because the obstacle was slick).
Other Appearances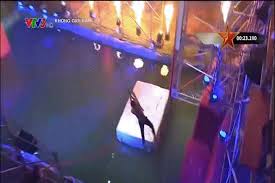 Tiều phu về đích (SASUKE Vietnam's official name for the Lumberjack Climb) appeared as the final obstacle in Stage 1B from SASUKE Vietnam to SASUKE Vietnam 3.
Competitor's Success Rate
All results based on the TBS broadcast and external information found.
| SASUKE | Clears | Attempts | Percentage |
| --- | --- | --- | --- |
| 30 | 27 | 32 | 84.38% |
| 31 | 17 | 20 | 85.00% |
| 32 | 8 | 14 | 57.14% |
| 33 | 13 | 14 | 92.85% |
| 34 | 24 | 28 | 85.71% |
| Total | 89 | 104 | 85.57% |