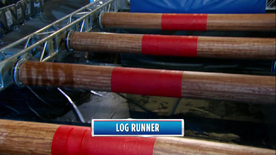 The Log Runner is an obstacle, firstly introduced as the third obstacle on American Ninja Warrior 7 in San Pedro (Military).
The Log Runner is a combination of the Spinning Bridge and Spinning Log. It is known for having arguably the toughest modification on American Ninja Warrior 8.
It consisted of four free-spinning equidistant logs which competitors must run across, each four feet distant from each other. The obstacle was proven to be the most challenging obstacle in San Pedro, as several competitors either failed to land their feet at the very middle of the log and slipped off, or touched a log with their hands, resulting in a disqualification.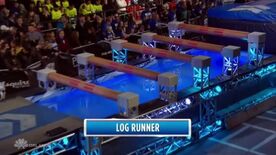 The Log Runner returned as the third obstacle on American Ninja Warrior 8 in Oklahoma City. This time: 
There were 5 logs instead of 4. 
The first three logs were gradually rised by 6 inches each, only until the fourth log. 
Competitors would not be disqualified for touching a log with their hands. The twist with the fourth log being level, ended up being the reason why the disqualification was lifted. 
Although competitors could use their hands while attempting the obstacle, during Oklahoma City qualifiers, the Log Runner was proven to be surprisingly brutal, as it was responsible for eliminating many top competitors, including Kevin Klein, Lance Pekus, and Kacy Catanzaro. This was also the obstacle no women in Oklahoma City qualifiers could get past. The Log Runner was revealed to have taken out 36 competitors during Oklahoma City qualifiers. 
It was just as deadly during Oklahoma City finals, as seven more competitors fell here, once again usually around the fourth log. 
This obstacle had a unique completion during American Ninja Warrior 8's Oklahoma City qualifiers, when Artis Thompson III attempted it with his prosthetic leg. His feet slipped at the second log, but he was able to save himself by grabbing the third log with his hands. Then, he slowly acrossed the obstacle, log by log, and finally to the landing platform. Though he ultimately gassed out at the end of the next obstacle, the Tire Swing, his performance at that night was awarded the 'POM Run of the Night'. This was the first occurrence, where the 'POM Run of the Night' was not awarded from a completion on a course.
Ad blocker interference detected!
Wikia is a free-to-use site that makes money from advertising. We have a modified experience for viewers using ad blockers

Wikia is not accessible if you've made further modifications. Remove the custom ad blocker rule(s) and the page will load as expected.