The Kaiten Tsutsu (回転筒) was the third obstacle of the Second Stage from KUNOICHI 3 to KUNOICHI 5 and KUNOICHI 7.
Similar to the Burasagari Maruta, which was used during the First Stage in SASUKE 1 and SASUKE 2, and was also called as the Spinning Log during the broadcast of Ninja Warrior, competitors had to run across a log (which was 30cm in diameter and 3.8m in length, though it would be lengthened after its debut tournament) to reach the landing platform.
The design of the Kaiten Tsutsu would later be used for the Spinning Log on several SASUKE/Ninja Warrior's international formats (e.g. American Ninja Warrior, Ninja Warrior UK, Australian Ninja Warrior, and SASUKE Ninja Warrior Indonesia).
In KUNOICHI 9, the Pipe Hold has a similar design with this obstacle, except competitors couldn't stand on top of the log. Also, the Broken Pipes from American Ninja Warrior 9 in Kansas City had a similar design with this obstacle.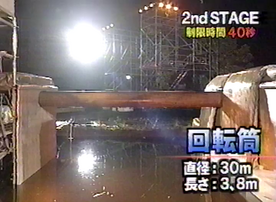 Competitors' Success Rate
| KUNOICHI | Clears | Attempts | Percentage |
| --- | --- | --- | --- |
| 3 | 13 | 14 | 92.86% |
| 4 | 7 | 7 | 100% |
| 5 | 5 | 6 | 83.33% |
| 7 | 4 | 4 | 100% |
| Total | 29 | 31 | 93.55% |