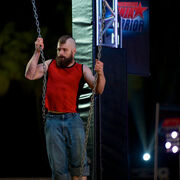 Justin Walcker is a Systems Manager who was diagnosed with Tourette`s Syndrome at age 5, who also competed in 2 American Ninja Warrior competitions. In
American Ninja Warrior 4
, he completed the Northwest Regional competition and advanced to Las Vegas. In Vegas,he cleared the
Step Slider
,
Rolling Log
, and
Giant Swing
, but failed to get up to the
Jumping Spider
. In
American Ninja Warrior 5
, he completed the Venice City Qualifying Course, but in the Venice Finals, he failed to make it to the 2nd ledge of the
Cliffhanger
. However, this was enough to make his 2nd straight trip to Mt.Midoriyama. In Las Vegas, he failed he
Jumping Spider
again, becoming one of the many to fall there that day. He competed again in American Ninja Warrior 6.
His run was all cut, but it was known that he went out on the Rolling Escargot.