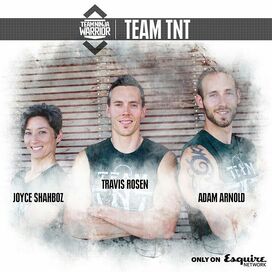 Joyce Shahboz is a physical therapist who first competed in American Ninja Warrior 4. Shahobz is most notable for being the therapist that helped Drew Drechsel after his devastating knee injury.
Shahboz made her debut in the Southeast Qualifying of American Ninja Warrior 4. She failed the Swing Circle.
She later received a wildcard for Vegas and failed the Rolling Log in Stage One.
Shahboz competed in Miami in American Ninja Warrior 5. She failed the Monkey Peg.
She once again received a wildcard and failed the Jumping Spider.
Shahboz competed once again in Miami in American Ninja Warrior 6. She failed the Curtain Slider, and for the first time, she did not receive a wildcard for Vegas.
American Ninja Warrior 7
Shahboz returned in American Ninja Warrior 7, though her run was cut from the broadcast. She was one of the many to fail the Paddle Boards in Orlando qualifying. She didn't compete in American Ninja Warrior 8.
Ad blocker interference detected!
Wikia is a free-to-use site that makes money from advertising. We have a modified experience for viewers using ad blockers

Wikia is not accessible if you've made further modifications. Remove the custom ad blocker rule(s) and the page will load as expected.