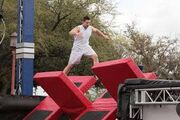 Johnathan Morin
is a youth pastor who competed as a walk on for the midwest region of
American Ninja Warrior 4
and he finished with the slowest time in the qualifier, however due to the
Soritatsu Kabe
's dominance in that region his result was good enough for 12th place. In the Semi-Finals, Morin managed to finish in 8th place despite struggling on the
Salmon Ladder
. In the Vegas Finals Morin slipped on the
Jumping Spider
like many that day. He came back in
American Ninja Warrior 5
stronger than ever. He placed 46 in the Denver qualifying round. But in the Denver finals, he came short of his goal and failed on the Salmon Ladder and he wasn't selected as wildcard to be in Vegas. He competed in American Ninja Warrior 6, he cleared the qualifying course in Dallas. In the finals,he failed on the Swinging Frames, but it was enough for him to earn a spot in Las Vegas. But, He failed on the Jumping Spider in Stage 1 again, like American Ninja Warrior 4. He did compete in American ninja Warrior 7 but sadly fell on the swinging spikes.
Ad blocker interference detected!
Wikia is a free-to-use site that makes money from advertising. We have a modified experience for viewers using ad blockers

Wikia is not accessible if you've made further modifications. Remove the custom ad blocker rule(s) and the page will load as expected.