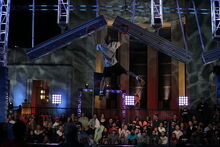 Jo Jo Bynum is a software engineer in Huntsville, AL. His first year competing in American Ninja Warrior was in Season 6. He completed the course in the Dallas Qualifier. Jo Jo seemed to take his time through each obstacle. During the Ring Toss he missed a couple of pegs but was able to recover in order to finish. Jo Jo was able to make it up the Warped Wall in his first attempt finishing in eighteenth place.
After making it through qualifying, Jo Jo was able to not only get past the first 6 obstacles he faced in qualifying he was able to make it up the Salmon Ladder and get to the Swinging Frames in a fast enough time to be able to compete in Vegas. As a Rookie he did an extraordinary job by making it through Stage 1 with 17.85 to spare. Having time to remain gave him some time to watch fellow competitors as they tackled Stage 2. He had the 9th fastest time in Stage 1. On Stage 2, he struggled with Rope Jungle, however still managed to complete the Double Salmon Ladder. However, as he attempted to make the transition from the bar to the Unstable Bridge, he lost his grip and fell in the water. Jo Jo is now known as the man that can't swim because he called for help in the water.
In Season 7 he made past qualifying and got out once again on the 8th obstacle this time being Cannonball Alley. He is still going to Vegas an hopes to complete all 4 stages and become the first American Ninja Warrior. He completed Stage 1 in Vegas with over 20 seconds remaining, and once again moved on to Stage 2. Unlike last year, he had no trouble on Rope Jungle and completed it in 15 seconds. However, on the Double Salmon Ladder, he got too ambitious and attempted to jump up 2 rungs. The right side of the bar reached the third rung, however the left side got caught up on the second rung resulting in the bar being uneven and falling off the ladder.
In Season 8 he competed in the Atlanta Qualifying Round and finished the course in 18th place. Then, in Atlanta Finals, Jo Jo Bynum was exhausted after the first 5 obstacles which caused him to fail the Warped Wall on the first two attempts. He managed to regain his composure then scale the wall on his last attempt. Miraculously, he was able to get past both the Salmon Ladder and the Floating Monkey Bars before falling on The Clacker. By making it to the 9th obstacle, he put up his best finals run to date, and secured a spot in the finals placing 7th in the top 15.. He fell on Stage 1, failing the Giant Log Grip.
In Season 9 he competed in Daytona, FL. His qualifying run was fast forwarded, but he was shown to have failed the new Wingnuts, and not making it to the city finals for the first time in his career.
| ANW | # | Result | Notes |
| --- | --- | --- | --- |
| 6 | 23 | Failed Unstable Bridge (Second Stage) | Failed transition from the Double Salmon Ladder |
| 7 | | Failed Double Salmon Ladder (Second Stage) | |
| 8 | | Failed Giant Log Grip (First Stage) | |
Ad blocker interference detected!
Wikia is a free-to-use site that makes money from advertising. We have a modified experience for viewers using ad blockers

Wikia is not accessible if you've made further modifications. Remove the custom ad blocker rule(s) and the page will load as expected.