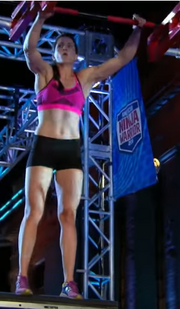 Jesse "Flex" Labreck is a caregiver who helps take care of Emeline Sterpe who has cerebral palsy.
Labreck competed first in American Ninja Warrior 8. In the Philadelphia qualifier she made it to Rolling Thunder until she lost her grip. She still made it to City Finals in 28th place. In the finals, she managed beat the Rolling Thunder and became just the fifth woman ever to scale the Warped Wall. She made it all the way to Stair Hopper before falling. She became the fourth woman in ANW history to qualify for Vegas placing 10th, the third in American Ninja Warrior 8. and the first to qualify as a rookie. In Las Vegas Finals, she managed to keep a slow but steady pace until the Jumping Spider, where she ultimately failed due to her legs not getting deep enough in between the walls.
Labreck returned to compete in Cleveland in American Ninja Warrior 9 where she became just the sixth woman ever to complete a qualifying course, she placed 12th and moved on to the city finals. in the city finals, she failed the Nail Clipper but she managed to grab the final spot in the top 15 and made her second trip to Vegas
Ad blocker interference detected!
Wikia is a free-to-use site that makes money from advertising. We have a modified experience for viewers using ad blockers

Wikia is not accessible if you've made further modifications. Remove the custom ad blocker rule(s) and the page will load as expected.