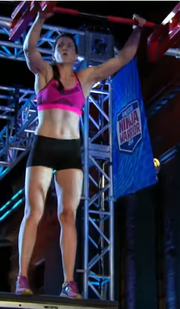 Jesse "Flex" Labreck is a gym operator from Naperville, IL living with Chris DiGangi and was a former caregiver who helped take care of Emeline Sterpe who has cerebral palsy.
Labreck competed first in American Ninja Warrior 8. In the Philadelphia qualifier she made it to Rolling Thunder until she lost her grip. She still made it to City Finals in 28th place. In the finals, she managed beat the Rolling Thunder and became just the fifth woman ever to scale the Warped Wall. She made it all the way to Stair Hopper before falling. She became the fourth woman in ANW history to qualify for Vegas placing 10th, the third in American Ninja Warrior 8. and the first to qualify as a rookie. In Las Vegas Finals, she managed to keep a slow but steady pace until the Jumping Spider, where she ultimately failed due to her legs not getting deep enough in between the walls.
Labreck was chosen to represent Team Matt in the Team Competition in the Second American Ninja Warrior All star Special. During her leg of the race on stage 1, she got her revenge on the Jumping Spider, but failed the Sonic Curve, on Stage 2 she made history as the first woman to complete the Wave Runner and the Butterfly Wall.
LaBreck also competed in the Skills Competition where she cleared 19 rungs out of 35 on the Super Salmon Ladder competition, and scaled a 17 ft warped wall on the Mega Wall Competition.
Team Ninja Warrior (Season 2)
Because she qualified for the national finals in Season 8, Labreck was chosen to form a three person team of her own for Team Ninja Warrior, Labreck called her team "The LaBreckfast Club" because it was part of her last name and that, she and her teammates were known for their speed, Labreck's teammates were Noel Reyes and Jon Alexis Jr. The team ultimately was eliminated on the sixth episode in qualifying, losing to Lorin Ball's team, the Ballers, in a sudden death match.
Labreck returned to compete in Cleveland in American Ninja Warrior 9 where she became just the sixth woman ever to complete a qualifying course, placing 12th overall and moved on to the city finals. in the city finals, she failed the Nail Clipper but she placed 15th overall and made her second trip to Vegas. On Stage 1, Labreck cleared the first four obstacles with ease, But she got hung up on the rope on Parkour Run wasting energy and time, and ultimately she crashed into the water on the Flying Squirrel after failing the transition to the cargo net.
During American Ninja Warrior: Ninja vs. Ninja, Labreck and her team, "LaBreckfast Club", which consists of her, Jon Alexis Jr., and Chris DiGangi, went on to become the champions of the whole season of team competition!
In American Ninja Warrior 10, Labreck competed in Indianapolis (not Philadelphia) this time, considering she now lives in Naperville, Illinois. She moved through the course with ease and became the first woman that night to complete the Spin Hopper, as well as the first woman that season to attempt the 18-foot Mega Wall. Although she came up short on the Mega Wall, she easily scaled the regular wall and hit her second consecutive qualifying buzzer, and became just the second woman that season to complete the qualifying course, she placed 10th overall at the end of the night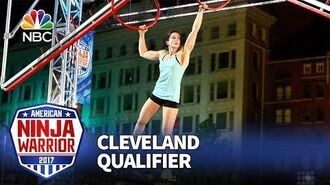 ANW
#
Result
Notes
ANW 8
Failed Jumping Spider (First Stage)
ANW 9
Failed Flying Squirrel (First Stage)