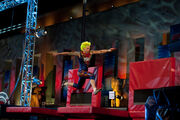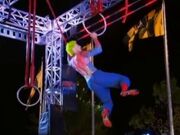 Jamie Rahn AKA Captain NBC is a gym owner who resides in Cherry Hill, New Jersey.
In American Ninja Warrior 2 , Jamie failed on the Godantobi in the qualifying round in Venice when he didn't realize that the landing platform was an incline.
American Ninja Warrior 4
In American Ninja Warrior 4, This time in Miami, he beat the qualifier in 10th place, but was one of 13 to fail the hardened Jumping Bars in the semi finals and he just missed out on making it to Vegas by placing 16th.
In
American Ninja Warrior 5
, competing in Baltimore he beat the qualifier again this time in 3rd, he also finished the finals in 8th and in Vegas, he beat the first stage with 19 seconds left. In the second stage, he failed the Double Salmon Ladder after transitioning to the second ladder, he slipped off the rungs trying to straighten the bar.

In American Ninja Warrior 6 , Jamie returned with a renewed costume and cleared the qualifing round in St. Louis and also cleared the finals course. However, he failed on the Jumping Spider on stage 1.
In American Ninja Warrior 7, Jamie competed in Pittsburgh. He cleared the first 2 obstacles, but had trouble with Snake Crossing and the Wind Chimes, but was able to clear them. Then he became the first veteran to clear the course. He had the slowest time with 6 mins. He failed the Invisible Ladder, but placed 2nd there.He completed Stage 1 and made it past the Double Salmon Ladder this time, but failed the Roulette Row in stage 2
In American Ninja Warrior 8, Jamie completed the Philadelphia finals course as one of only nine finishers to complete the course. He failed the ninth obstacle, the Stair Hopper, but still, once again, earned a spot to the National Finals. In the National Finals, he made a surprised early exit on the third obstacle, the Giant Log Grip.
In American Ninja Warrior 9, Jamie competed in Cleveland and cleared the qualifying course placing 11th. in the city finals, he became the first competitor of the night that cleared the Nail Clipper, he defeated the Clacker and the Elevator Climb and finished in 2nd place making it the fifth year in a row that he qualified for the national finals. Jamie cleared Stage 1 for the third time in Vegas but was one of many to fail Wingnut Alley on Stage 2.
| ANW | Result | Notes |
| --- | --- | --- |
| 5 | Failed Double Salmon Ladder (Second Stage) | |
| 6 | Failed Jumping Spider (First Stage) | |
| 7 | Failed Roulette Row (Second Stage) | |
| 8 | Failed Giant Log Grip (First Stage) | |
| 9 | Failed Wingnut Alley (Second Stage) | Transition to dismount |
Ad blocker interference detected!
Wikia is a free-to-use site that makes money from advertising. We have a modified experience for viewers using ad blockers

Wikia is not accessible if you've made further modifications. Remove the custom ad blocker rule(s) and the page will load as expected.