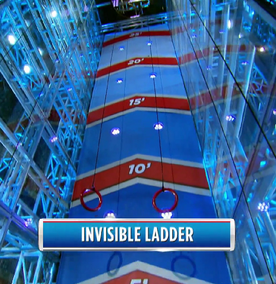 The Invisible Ladder was an obstacle, first appeared on American Ninja Warrior 7, where it was the final obstacle in every city finals course, replacing the Spider Climb from the past two American Ninja Warrior seasons. It consisted of two hanging rings in a thirty-foot chute. Competitors must grab one ring in each hand, and pumped their arms upward as if they were climbing a ladder. Since the rings could only move upwards, doing this would raise the competitors toward the top of the chute, where they could hit the buzzer. Also, competitors were not allowed for using the feet while attempting this obstacle.
Because of the immense amount of upper body usage, in its first season, this obstacle proved to be much brutal than the Spider Climb, as this obstacle ended many veterans' run, once they got to this obstacle, mainly due to them being spent much time and energy after the previous nine obstacles. It took out competitors like Kevin Bull, Flip Rodriguez, Drew Drechsel, David Campbell and Ryan Stratis. Only 11 competitors were able to get up to the top and consequently, finished the city finals course on American Ninja Warrior 7.
The Invisible Ladder made its second appearance on American Ninja Warrior 8. Josh Levin was the only competitor in Los Angeles finals to complete it. However, in Atlanta finals, four competitors could get past the obstacle (including Drew Drechsel, who failed on this obstacle during American Ninja Warrior 7's Orlando finals). Another four competitors were able to get up the Invisible Ladder in Indianapolis finals, and two more in Oklahoma City finals, totaling 11 competitors like last season, but no one was able to complete it in Philadelphia finals (making it the first time ever in American Ninja Warrior history, that no competitor could complete the city finals course). During American Ninja Warrior 8, only four competitors (Ethan Swanson, Thomas Stillings, Joe Moravsky (who completed this obstacle during American Ninja Warrior 7's Pittsburgh finals) and Chris Wilczewski) failed on this obstacle. On American Ninja Warrior 9, it was replaced by the Elevator Climb which also have the same function as this obstacle.
Trivia
Out of the 11 competitiors that were able to scale the Invisible Ladder in season 7, two of them were rookies (Brendan Couvreux and Nicholas Coolridge).
Kansas City and Houston were the only two cities on American Ninja Warrior 7, where no competitor had failed the Invisible Ladder.
Venice Beach, San Pedro (Military), and Los Angeles were the only cities where only one competitor could get through the Invisible Ladder (Nicholas Coolridge, Dustin McKinney, and Josh Levin were the only finishers in their respective cities).
Ad blocker interference detected!
Wikia is a free-to-use site that makes money from advertising. We have a modified experience for viewers using ad blockers

Wikia is not accessible if you've made further modifications. Remove the custom ad blocker rule(s) and the page will load as expected.