Idoko Abuh is an Audio Engineer and musician who competed in American Ninja Warrior 5. At the time, he couldn`t make it up the Soritatsu Kabe, but was one of the 11 who made it the farthest, the fastest. He did that once more, failing Rolling Steel, but placing 10th. He came in last place in Stage 1, and made it through Stage 2 with 28.7 seconds left. He failed the Roulette Cylinder in the Third Stage.
In
American Ninja Warrior 6
, after putting an outstanding performance as a rookie last year, he was expected to get to Stage 3 again. He was able to place 7th in Miami Qualifying this time, and was able to breeze through the first two obstacles in the finals. However, as a huge shocker, on the
Dancing Stones
, his hand hit one of the stones, and he got disqualified. It was shown that he was selected as a wildcard, but his run wasn't shown in the Vegas finals. It was said he failed the Jumping Spider like many others.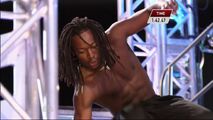 American Ninja Warrior 7
didn't prove to be much better. Just like with ANW 5, he failed to complete the qualifying course, falling on the
Double Tilt Ladder
, but placed 29th in qualifying. He got redemption on the
Double Tilt Ladder
, but shockingly fell on the
Salmon Ladder
, which he was able to get through two years ago. He ended up placing 19th overall.
In American Ninja Warrior 8, Abuh was not invited back, most likely due to his disappointing performances in previous seasons. Idoko is one of the only competitors to do well only one season.
| ANW | # | Results | Note |
| --- | --- | --- | --- |
| 5 | | Failed Roulette Cylinder (Third Stage) | |
| 6 | | Failed Jumping Spider (First Stage) | Competed as Wild Card. |