Hirata Atsushi (平田 敦士) is a boxer who has only competed once, in SASUKE 19. In that tournament, he was the first to ever beat the Half-Pipe Attack. He then went on to be the first one to clear the Soritatsu Kabe and Flying Chute that day, with him being only one of four people to clear the Flying Chute in SASUKE 19. He then made it to the Tarzan Rope and Rope Ladder with little time left, and timed out on the top of the Rope Ladder. The reason for his time out was that he spent too much time on the Spider Walk portion of the Jumping Spider. The announcer made note to say that if the time limit was 120 seconds, he would have cleared.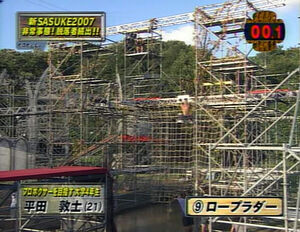 Results
| SASUKE | # | Result | Notes |
| --- | --- | --- | --- |
| 19 | 57 | Failed Rope Ladder (First Stage) | Time Out. About 4 seconds late. |
Ad blocker interference detected!
Wikia is a free-to-use site that makes money from advertising. We have a modified experience for viewers using ad blockers

Wikia is not accessible if you've made further modifications. Remove the custom ad blocker rule(s) and the page will load as expected.