The Great Wall was an obstacle that was introduced with the course redesign in SASUKE 18. It replaced the Soritatsu Kabe which had been in the First Stage since SASUKE 5. The function is similar to the Soritatsu Kabe, except instead of grabbing the top of the wall, competitors have to grab a rope coming down to the height of the old Soritatsu Kabe and climb to the top. The Great Wall with the rope was 4.6m high. The Great Wall was also narrower than the Soritatsu Kabe. Despite being designed to be harder than its predecessor, the Great Wall only eliminated 4 people in its only tournament, as the rope proved to be an easy reach for most competitors (especially the tall ones).
The rope was removed in SASUKE 19 and the wall was widened, returning the Soritatsu Kabe which is 20cm higher than the original.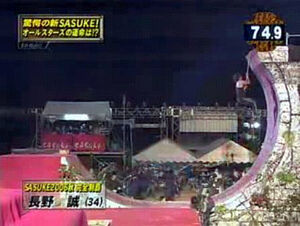 Competitors' Success Rate
All results based on the TBS broadcast and external information found
| SASUKE | Clears | Attempts | Percentage |
| --- | --- | --- | --- |
| 18 | 14 | 18 | 82.36% |
| Total | 14 | 18 | 82.36% |
Ad blocker interference detected!
Wikia is a free-to-use site that makes money from advertising. We have a modified experience for viewers using ad blockers

Wikia is not accessible if you've made further modifications. Remove the custom ad blocker rule(s) and the page will load as expected.