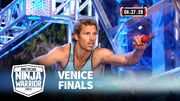 Grant McCartney is a flight attendant from Honolulu, Hawaii. He made his debut in
American Ninja Warrior 7
in the Venice City Qualifying Round with an explosive personality and heartbreaking year. During the season, he cleared the City Qualifiers, however failed the City Finals at the
Clear Climb
. This performance was good enough to get him to the Las Vegas finals, where he cleared the First Stage with 9.59 seconds to spare. However, in the Second Stage, he failed the
Double Salmon Ladder
.
He later competed again in American Ninja Warrior 8 in the Los Angeles Qualifying Round at Universal Studios Hollywood, where he finished the course in 10th place with 04:23.47. He's moving on to the Los Angeles City Finals, where he would love to complete the course there. In the city finals, he blazed through the first seven obstacles but shocked everyone by failing the Wedge. Because he went the farthest and fastest, he placed 10th overall and moved on to the Las Vegas finals. On Stage One, Grant was the first competitor to make it past the Flying Squirrel and hit the buzzer, finishing the stage with just 4.81 seconds to spare. But on Stage Two, history repeated itself as he shockingly failed on another version of the Salmon Ladder, the Down Up Salmon Ladder.
On American Ninja Warrior 9 in the Los Angeles Qualifying, he posted the fastest time in the Region, which is the first time he achieved in his career. In the city finals, he kept his fast pace but shockingly failed the Salmon Ladder which made him not qualified for the national finals.
ANW Results
Ad blocker interference detected!
Wikia is a free-to-use site that makes money from advertising. We have a modified experience for viewers using ad blockers

Wikia is not accessible if you've made further modifications. Remove the custom ad blocker rule(s) and the page will load as expected.