The Giant Swing (ジャイアントスイング) is the seventh obstacle of the First Stage, introduced in SASUKE 26. The competitor must jump from a springboard to a giant bar which swings to the net much like a trapeze. It proved to be much easier than its notable counterpart, the Slider Jump, as only one competitor (Adam Truesdell) failed it.
SASUKE 27 Version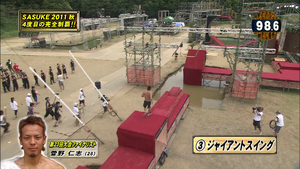 The Giant Swing returned for SASUKE 27 as the third obstacle of the First Stage but has a minor modification.
The competitors must jump from a springboard to giant bar which swings to a angled platform much like one of the Rokudantobi.
The obstacle took out some of the top competitors and rookies like Hioki Masashi and Enokido Hayato.
Other Appearances
Later, this obstacle was used as the third obstacle in Stage One on
American Ninja Warrior 4
, and even though 8 competitors didn't complete it, 85 others held on and cleared the obstacle.
Kelvin Antoine
,
Tom Hutchman
, and
Adam Grossman
failed on it. Cú Nhảy Phi Thường (SASUKE Vietnam official name for Giant Swing) is fourth obstacle for Stage 1B of
Sasuke Vietnam
. They used the SASUKE 27 version with the usage of an angled platform in the end.
Competitors' Success Rate
All results based on the TBS broadcast and external information found
| SASUKE | Clears | Attempts | Percentage |
| --- | --- | --- | --- |
| 26 | 14 | 16 | 87.50% |
| 27 | 48 | 60 | 80.00% |
| ANW4 | 85 | 94 | 91.39% |
| Total | 147 | 170 | 86.98% |
Ad blocker interference detected!
Wikia is a free-to-use site that makes money from advertising. We have a modified experience for viewers using ad blockers

Wikia is not accessible if you've made further modifications. Remove the custom ad blocker rule(s) and the page will load as expected.