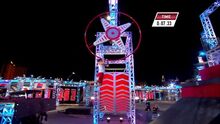 The Giant Cycle is an obstacle that was used in American Ninja Warrior 5. This is one of the few obstacles that was never appeared in SASUKE. Competitors must jump off a trampoline and grab a large wheel, which spins when touched. Competitors must use momentum from the swing to dismount the obstacle. Some competitors, such as Jesse La Flair, took two swings to get to the platform. It's a hybrid of the Giant Swing and Cycle Road. The obstacle did good damage, retiring 8 people in the Vegas Finals. It took out Asa Kazuma during the USA VS Japan Special. In American Ninja Warrior 6, this obstacle was renamed the Giant Ring, but still had the same function. It was removed in American Ninja Warrior 7 in favour of the Propeller Bar.
Ad blocker interference detected!
Wikia is a free-to-use site that makes money from advertising. We have a modified experience for viewers using ad blockers

Wikia is not accessible if you've made further modifications. Remove the custom ad blocker rule(s) and the page will load as expected.