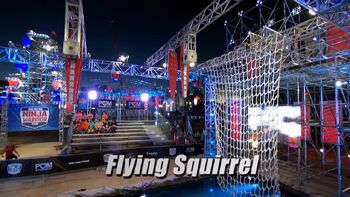 Flying Squirrel is a new obstacle in Stage 1 on American Ninja Warrior 8 replacing the Triple Swing, placing at last position. Competitors jump 11 feet from a mini tramp to 2 separate handles that swing independently of each other, kind of similar to The Clacker. Then they must lache over to the next set of handles, which are also 11 feet away. They must then lache 10 feet to the Rope Ladder and climb it to clear the stage.
This obstacle proved to be difficult as Ryan Stratis, Jon Alexis Jr. and Jessell Boseman were a few top competitors that failed it on Stage 1 in Season 8.
Ad blocker interference detected!
Wikia is a free-to-use site that makes money from advertising. We have a modified experience for viewers using ad blockers

Wikia is not accessible if you've made further modifications. Remove the custom ad blocker rule(s) and the page will load as expected.