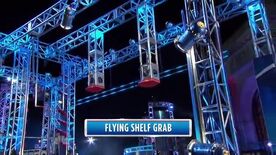 The Flying Shelf Grab is an obstacle, firstly introduced as the eighth obstacle on American Ninja Warrior 7 during Kansas City finals.
It consisted of two suspended shelves with a 2-inches ledge on both shelves, and the gap between the shelves was 6 feet.
After completing the Salmon Ladder, competitors must make a transition to a stationary bar in front of them. From there, they must swing forward to the first shelf. Once on the first shelf, they must build enough swing and momentum to make a transition to the second shelf. And finally, they must swing to the landing platform to advance.
This obstacle knocked out several top competitors like Ethan Swanson and Jon Stewart. In total, 8 out of 24 competitors who attempted this obstacle, failed to complete it. Those 8 competitors didn't advance to Las Vegas national finals, since competitors must at least reach the ninth obstacle (the Body Prop) to advance.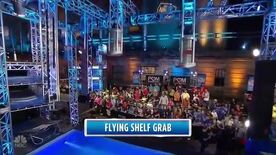 The Flying Shelf Grab returned on American Ninja Warrior 8, as the eighth obstacle during Philadelphia finals. However, the gap between the shelves was increased to 8 feet.
This time, the obstacle eliminated 5 out of 15 competitors who attempted it (Anthony DeFranco, Nick Kostreski, Brandon Pannell, Richard Shoemaker, and Carl Fantauzzo), and those 5 competitors still advanced to Las Vegas national finals. Coincidentally, the completion rate of the Flying Shelf Grab during Philadelphia finals was exactly the same as during Kansas City finals (at 66.67%)
Other Appearances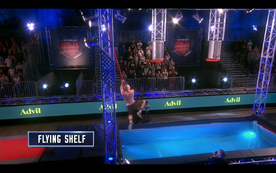 On Australian Ninja Warrior, the Flying Shelf Grab appeared as the seventh obstacle in Semifinal 2, and was simply called as the Flying Shelf. However, competitors needed to climb up a rope. Then, they must swing forward to reach the first shelf.