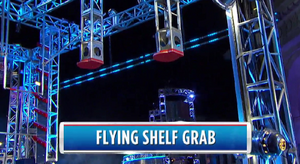 The Flying Shelf Grab first appeared as the eighth obstacle in the Kansas City Finals of American Ninja Warrior 7 It consists of two suspended shelves with three inch ledges. After competitors climb the Salmon Ladder they must transition to a stationary bar in front of them. From there, they must then swing forward to the first shelf. Once on the first shelf they must swing forward to the second shelf which is 8 ft. away from the first ledge. They can then swing to the landing mat.This obstacle knocked out several competitors like Ethan Swanson and Jon Stewart.
The Flying Shelf Grab reappeared again in the Philadelphia City Finals of American Ninja Warrior 8 as the eighth obstacle again. This time this obstacle only knocked out five athletes, specifically Anthony DeFranco, Nick Kostreski, Brandon Pannell, Richard Shoemaker, and Carl Fantauzzo all failed it.
Ad blocker interference detected!
Wikia is a free-to-use site that makes money from advertising. We have a modified experience for viewers using ad blockers

Wikia is not accessible if you've made further modifications. Remove the custom ad blocker rule(s) and the page will load as expected.