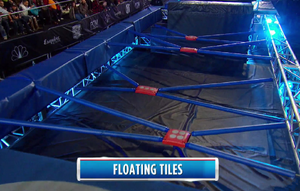 The Floating Tiles was an obstacle, firstly introduced on American Ninja Warrior 7, as the third obstacle in Kansas City. It consisted of four suspended tiles, which competitors must run across while maintaining their balance. This obstacle had a great success, as only a handful of competitors failed. 
In KUNOICHI 9, the obstacle X-Bridge was similar to this obstacle. However, the tiles of the obstacle were significantly wider than the ones used for the Floating Tiles, to the point where most competitors were able to walk in a straight line when attempting the obstacle. In fact, all competitors who attempted the obstacle, could complete it. 
The obstacle made an appearance on
Ninja Warrior UK 2
, as the third obstacle in three qualifying heats. However, this obstacle proved to be much brutal than on American Ninja Warrior 7, as several competitors either lost their balance or disqualified for stepping/touching the support cable. In fact, in Heat 4, 3 competitors who failed on this obstacle, still advanced to the semi-finals. Because of its difficulty, the obstacle was modified on the
next season
, where the support cables had given the red area, meaning competitors were allowed to step the support cable (only the red area, i.e. stepping the support cable outside the red area meant disqualification). Thanks to its modification, the obstacle had a better success rate than the previous season, although several competitors still failed on this obstacle. On Ninja Warrior UK 2, the area below this obstacle was filled with the safety mat, while on Ninja Warrior UK 3, it was filled with the water. 
The Floating Tiles returned as the fourth obstacle on Team Ninja Warrior: College Madness and Team Ninja Warrior 2. However, the obstacle consisted of six suspended tiles (with 2-1-2-1 formation). Unlike on American Ninja Warrior and Ninja Warrior UK version, competitors were allowed to step the support cables or touch the water (as long as competitors didn't lose the grip on the obstacle entirely).
Ad blocker interference detected!
Wikia is a free-to-use site that makes money from advertising. We have a modified experience for viewers using ad blockers

Wikia is not accessible if you've made further modifications. Remove the custom ad blocker rule(s) and the page will load as expected.