The Floating Boards (フローティングボード), was introduced in SASUKE 25. The obstacle consists of five boards hanging from the scaffolding above. The competitor must cling onto the first board, transfer to the next and so on. Despite being very fatiguing with the Ultimate Cliffhanger immediately after, it eliminated no competitors and was replaced by the Cycling Road after one tournament.
The Floating Boards made a return on American Ninja Warrior 4 in Stage Three. It again preceded the Ultimate Cliffhanger. However, the number of boards was decreased to four and the gaps in between the boards were smaller. It was cleared by the only remaining competitor, Brent Steffensen, who ended American Ninja Warrior 4 later on at the Hang Climb. This obstacle was also used for the American Ninja Warrior 2 Boot Camp, but it wasn`t used in any of the Team Relays. It was used again on American Ninja Warrior 5, and for the first time, it defeated competitors (James McGrath, Joe Moravsky, and Travis Rosen), becoming the most difficult obstacle for competitors. The only one to clear it in that tournament was Brian Arnold, who later went on to become the second American to defeat the Ultimate Cliffhanger. It was also used on American Ninja Warrior 6 and cleared by Joe Moravsky, but defeated Elet Hall. On American Ninja Warrior 7, all competitors cleared the obstacle. On American Ninja Warrior 8, the obstacle was modified, with the bottom part of the boards was tapered, so the boards were looked trapezoidal, rather than usual rectangular-shaped. Despite this change, no competitor failed on this obstacle (both Drew Drechsel and Daniel Gil cleared it).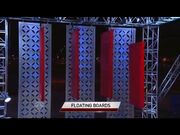 The Floating Boards have also made an appearance on first and second season of Ninja Warrior UK, as the first obstacle (second obstacle on third season) of Stage Three of the finals course. To date, no-one has progressed far enough to attempt the obstacle.
Competitors' Success Rate
All results based on the TBS/NBC broadcast and external information found
| SASUKE | Clears | Attempts | Percentage |
| --- | --- | --- | --- |
| 25 | 4 | 4 | 100% |
| ANW4 | 1 | 1 | 100% |
| ANW5 | 1 | 4 | 25% |
| ANW6 | 1 | 2 | 50% |
| ANW7 | 8 | 8 | 100% |
| ANW8 | 2 | 2 | 100% |
| Total | 17 | 21 | 80.95% |
Ad blocker interference detected!
Wikia is a free-to-use site that makes money from advertising. We have a modified experience for viewers using ad blockers

Wikia is not accessible if you've made further modifications. Remove the custom ad blocker rule(s) and the page will load as expected.