Faris Xero is the creative director of his own movie/television studio, Xero Studio, in Altamonte Springs, Florida. On the course, Xero is known by many for his ninja costume, which was custom-made from himself.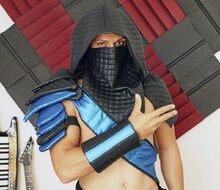 Xero first competed in American Ninja Warrior 8 debuting his ninja costume, competing in Philadelphia. Xero made it past the first three obstacles, but later took off his ninja costume on the Wall Drop. He fell at the end when he bounced from the trampoline and grabbed the support structure, which he fell off the course and took the support structure mat with him.
Xero competed in American Ninja Warrior 9 in Daytona Beach, where his run was all cut in qualifying, but it was shown that he made it to the Rolling Thunder, the obstacle he just barely missed out on attempting last season, and placed 23rd overall. In the city finals, Faris got past the Rolling Thunder, but fell on the Salmon Ladder, where just like in qualifying, placed 23rd overall.
Ad blocker interference detected!
Wikia is a free-to-use site that makes money from advertising. We have a modified experience for viewers using ad blockers

Wikia is not accessible if you've made further modifications. Remove the custom ad blocker rule(s) and the page will load as expected.