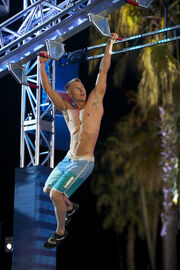 Evan Dollard (エヴァン・ドラード) is a youth instructor born in Chicago, Illinois and currently residing in Fox River Grove, Illinois. He is best known for being the male winner on the 2008 revival season of American Gladiators and was rewarded with becoming a gladiator for their second season, dubbed Rocket for his speed in "The Wall" event. He also competed on American Ninja Warrior 2.
Despite having limited experience of the show, he placed 11th in the qualifying round and went on to place 8th in the semi-finals. He was involved in a dramatic moment on the last day of the reality-styled boot camp the semi-finalist had to endure as he nominated himself in place of Patrick Cusic to attempt the Heavenly Ropes elimination challenge despite Patrick being arguably the weakest on the team. However, he completed the challenge fast enough to become a finalist and attempt SASUKE 26, however his run ended early as he failed the new Rolling Escargot. Ironically, fellow finalist Patrick Cusic failed the same obstacle with the two men providing the worse results for the team that tournament.
Rocket returned for American Ninja Warrior 3. He completed the Qualifying Round and advanced to Semi-Finals where he failed the Salmon Ladder, but was a Tester for Boot Camp.
In American Ninja Warrior 4, he managed to be one of the top 30 in qualifying and got the fastest time in the Southwest Finals. He would also go on to complete Stage 1. He failed at Stage 2 on the Double Salmon Ladder.
Evan did not compete in American Ninja Warrior 5 due to him hosting the ANW ad, "Well-Trained Warrior".
He came back in American Ninja Warrior 6 as strong as ever, completing the Venice City Qualifying round. He missed out on qualifying for Las Vegas in the Venice City Finals when he failed Cannonball Alley, allowing David Campbell to knock him into 16th place. However, since Evan actually got to the cannonball alley before 15th place fanilist Ben Melic he got to compete in Vegas as a wildcard there was a eorrer on the scoreboard that said he made it to cannonball alley in 4:41.35 but he actually made it there in 3:41.35 but they let both Dollard and Melic compete in Vegas. His run was all cut, but he said on Youtube that he failed the Silk Slider.
He returned back in American Ninja Warrior 7 for his 4th appearance. This time he competed in Houston instead of Venice. In the Qualifying round, he went out on the Swinging Spikes when he failed to hold onto the 4th Spike. But that was fast enough to make it to the City Finals. In the City Finals, he made it past the first 4 obstacles, but went on the Swinging Spikes again, where this time he couldn't get a grip on the 5th Spike. Dollard placed 24th overall.
Starting from season 8, Dollard is co-hosting Spartan: Ultimate Team Challenge. However, he made a brief cameo in the Oklahoma City qualifiers during an interview with Kristine Leahy, as some of the elite ninjas like Lance Pekus and Grant McCartney are competing on the show as well.
Evan Did not compete on American Ninja Warrior 9.
Results
Ad blocker interference detected!
Wikia is a free-to-use site that makes money from advertising. We have a modified experience for viewers using ad blockers

Wikia is not accessible if you've made further modifications. Remove the custom ad blocker rule(s) and the page will load as expected.