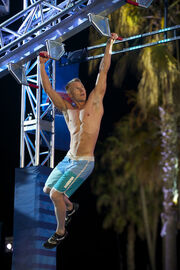 Evan Dollard (エヴァン・ドラード) is a youth instructor born in Chicago, Illinois and currently residing in Fox River Grove, Illinois. He is best known for being the male winner on the 2008 revival season of American Gladiators and was rewarded with becoming a gladiator for their second season, dubbed Rocket for his speed in "The Wall" event. He also competed on American Ninja Warrior 2.
Despite having limited experience of the show, he placed 11th in the qualifying round and went on to place 8th in the semi-finals. He was involved in a dramatic moment on the last day of the reality-styled boot camp the semi-finalist had to endure as he nominated himself in place of Patrick Cusic to attempt the Heavenly Ropes elimination challenge despite Patrick being arguably the weakest on the team. However, he completed the challenge fast enough to become a finalist and attempt SASUKE 26, however his run ended early as he failed the new Rolling Escargot. Ironically, fellow finalist Patrick Cusic failed the same obstacle with the two men providing the worse results for the team that tournament.
Rocket returned for American Ninja Warrior 3. He completed the Qualifying Round and advanced to Semi-Finals where he failed the Salmon Ladder.
In American Ninja Warrior 4, he managed to be one of the top 30 in qualifying and got the fastest time in the Southwest Finals. He would also go on to complete Stage 1. He failed at Stage 2 on the Double Salmon Ladder.
Evan did not compete in American Ninja Warrior 5 due to him hosting the ANW ad,'Well-Trained Warrior".
He came back in American Ninja Warrior 6 as strong as ever, completing the Venice City Qualifying round. He missed out on qualifying for Las Vegas in the Venice City Finals when he failed Cannonball Alley, allowing David Campbell to knock him into 16th place. However, since Evan secured that 16th place, he will get to compete in Vegas as a wildcard. His run was all cut, but he said on Youtube that he failed the Silk Slider.
| SASUKE | # | Result | Notes |
| --- | --- | --- | --- |
| 26 | | Failed Rolling Escargot (First Stage) | |