The Double Pendulum (ダブルペンダラム) is a new obstacle introduced in SASUKE 32, appearing after the Orugōru, replacing the Jump Hang Kai in SASUKE 31. Competitors must jump from the trampoline to a trapeze in a similar design to the Giant Swing. Using the trapeze to swing, competitors' forward momentum will enable them to jump to a ledge on the red sandbag. On reaching the sandbag, competitors will have to work their way around the sandbag, and generate enough swing to dismount to the platform on the other side. This obstacle is incredibly similar to the design of the Tick Tock on American Ninja Warrior 8 in Los Angeles and American Ninja Warrior 9 in San Antonio, except there is no cargo net (as same as in Los Angeles finals) and there is a trampoline. This obstacle took out competitors including 2 Shin Sedai members which are Hioki Masashi, and Urushihara Yuuji as well as one All-Star Yamamoto Shingo. It also took out Nakayama Kinnikun, Suzuki Yusuke, and Kawaguchi Tomohiro in SASUKE 33.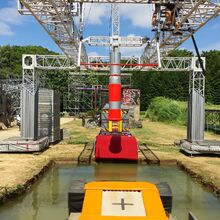 Competitors' Success Rate
All results based on the TBS broadcast and external information found
| SASUKE | Clears | Attempts | Percentage |
| --- | --- | --- | --- |
| 32 | 22 | 30 | 73.33% |
| 33 | 21 | 31 | 67.74% |
| Total | 44 | 62 | 70.96% |
Ad blocker interference detected!
Wikia is a free-to-use site that makes money from advertising. We have a modified experience for viewers using ad blockers

Wikia is not accessible if you've made further modifications. Remove the custom ad blocker rule(s) and the page will load as expected.