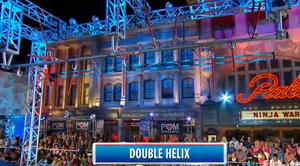 The Double Helix first appeared in the Orlando City Finals of American Ninja Warrior 7 and then later appeared again as the Helix Hang in the Los Angeles City Finals of American Ninja Warrior 8 as the ninth obstacle. It consists of two center axes, one after the other, each with rods sticking out of them forming two helices. Competitors must traverse the first helix's rods with their hands causing it to turn counter-clockwise. They must then transfer to the second helix and traverse its rods, causing it to turn clockwise, until they are close enough to jump to the landing mat. This obstacle is very similar to the Roulette Cylinder.
In Orlando, Seven competitors have attempted this obstacle and only five (not four mistakenly called by Matt Iseman and Akbar Gbaja-Biamila in Los Angeles) have completed it including James McGrath, David Rodriguez, and Drew Drechsel.
In Los Angeles, Two competitors have attempted this obstacle and only one have completed it including Josh Levin. The only fail on the obstacle was Jessie Graff.
Ad blocker interference detected!
Wikia is a free-to-use site that makes money from advertising. We have a modified experience for viewers using ad blockers

Wikia is not accessible if you've made further modifications. Remove the custom ad blocker rule(s) and the page will load as expected.