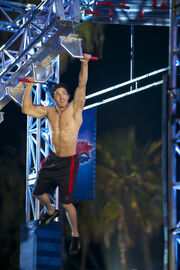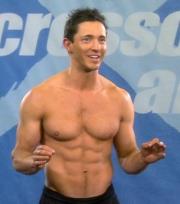 Dorian Cedars has been a competitor in 7 seasons of American Ninja Warrior.
He is an entrepreneur from Studio City, California and was a national champion all-star cheerleader, and collegiate cheerleader for the University of Colorado. He has been flying airplanes since the age of 2.
In American Ninja Warrior 1, Dorian made it to the Semifinal but was eliminated when he failed to make it up the Warped Wall.
In American Ninja Warrior 2, he made it to Boot camp and was eliminated the second day. In American Ninja Warrior 3, Dorian went out in the qualifying round due to the fact that he competed only 8 weeks after surgery to completely re-attach his rotator cuff and was disqualified when he foot hit the water at the end of the Jumping Bars.
In American Ninja Warrior 4, Dorian managed to beat the first two rounds, but at Mt. Midoriyama, although he raced through the first half of the course, it took him three attempts to make it up the Warped Wall. He timed out making a memorable last second leap for the buzzer.
In American Ninja Warrior 5 he made it through the Rokudantobi, Rolling Maruta, Fuandou, Jump Hang Kai, and Triple Grip Hang, but just like in ANW 1, He couldn't get up the Soritatsu Kabe, not moving on to the Denver Finals. In American Ninja Warrior 6, he competed in Venice and this time was able to make it up the Warped Wall and get into the Top 30. In the Venice Finals, he failed Cannonball Alley, but he still managed to finish in the Top 15 and move on to Las Vegas. In Vegas, he was one of the many to fall on the Silk Slider.
Dorian had competed again in American Ninja Warrior 7. His run wasn't shown, but he was said to have fell on the Mini Silk Slider, similar to his defeat on the original Silk Slider in Vegas last year. As his run was cut and he didn't make it into the Top 30.
Ad blocker interference detected!
Wikia is a free-to-use site that makes money from advertising. We have a modified experience for viewers using ad blockers

Wikia is not accessible if you've made further modifications. Remove the custom ad blocker rule(s) and the page will load as expected.