Danny Johnson is a Visual Effect/Motion Graphics Artist, who has competed in American Ninja Warrior 3 and American Ninja Warrior 4 tournaments. As well as American Ninja Warrior 6 and American Ninja Warrior 7.
In American Ninja Warrior 3, he completed the Qualifying course, but his time 1:18.26 wasn't fast enough to make the Semifinals. He placed 32nd overall.
In American Ninja Warrior 4, he competed on Northeast Region and completed the Qualifying course with 7th fastest time. In Region Finals, he failed at the Salmon Ladder, but he still placed 10th and made to Vegas. In the Vegas Finals he cleared First Stage with over 28 seconds left. He was 4th fastest Stage 1 finisher and was also fastest finisher, whose run got digested. However, he struggled in Stage 2 failed the Double-Salmon Ladder.
He returned back in American Ninja Warrior 6, where he competed in Denver. But couldn't get past the Devil Steps and failed there. He had ended up placing 31st, barely missing out on the finals.
He's from Pittsburgh, and had competed there in American Ninja Warrior 7. His run in qualifying was cut, but he was shown to have gotten revenge on the Devil Steps and placed 7th in qualifying. However, in the finals, he tried to take on a new approach on the Devil Steps. He leaped to the downhill transition rather than reaching for it, but he tried to dismount to early and ended up failing there once again, and ultimately placed 23rd overall. His attempt to dismount was somewhat similar to Michelle Warnky in qualifying, but his was more of a mental error than being spent on them.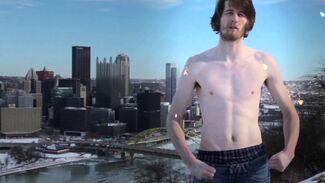 Ad blocker interference detected!
Wikia is a free-to-use site that makes money from advertising. We have a modified experience for viewers using ad blockers

Wikia is not accessible if you've made further modifications. Remove the custom ad blocker rule(s) and the page will load as expected.