Daniel Gil (born May 13, 1993) is a 24-year old Worship Leader, singer, and trainer at Sam Sann's Iron Sports gym, who first competed in American Ninja Warrior 7. Daniel is known by a lot of people for his long, curly hair, and also known by many as the "Kingdom Ninja."
Daniel first competed in American Ninja Warrior 7 (since he wasn't eligible to compete before) at the Houston Qualifying course. He blasted through the qualifying course posting the fastest time of 1:30.78.
In the Houston finals, Daniel finished the first half of the course at an even quicker pace than he did in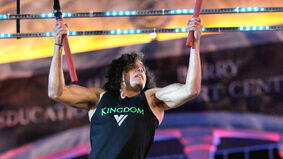 qualifying. He then demolished the Salmon Ladder and made a spectacular leap onto the rope to conserve grip strength on the Walking Bar. That strategy didn't seem to pay off though after he lost his grip on the transition from the fifth to sixth ledge on the Crazy Cliffhanger. Daniel still managed to finish in third place and qualify to the National Finals in Las Vegas.
In the Vegas finals, Gil flew through the first stage finishing with 38.44 seconds left. On the Second Stage, Gil maneuvered through the first four obstacles with finesse. However, on the Roulette Row, he didn't go for the reach to the second ring and had trouble building up momentum causing him to fall in the water.
He returned again in American Ninja Warrior 8 for the Oklahoma City qualifiers. He finished the course with ease with the second fastest time at 01:44.17, missing the fastest time by a second (Thomas Stillings, who had the fastest time at 01:43.51). It is also notable that the recording date (May 13) took place on Gil's 23rd birthday. Gil was the first competitor whose birthday occurred while running an ANW course.
Gil even bettered his Qualifying performance and dominated the City Finals course finishing in first place, punching his second consecutive ticket to the Vegas finals. He was able to beat Stage 1 with 15.03 seconds left and Stage 2 with 3.81 seconds remaining and made it to Stage 3 for the first time, but failed Stage 3 when he missed the transition on the Ultimate Cliffhanger.
Gil returned once again in American Ninja Warrior 9 looking stronger than ever. He blazed through the San Antonio qualifying course finishing with the fastest time of the night. He then repeated his stellar performance by defeating the grueling San Antonio city finals course being the only athlete to do so earning a third consecutive trip to Vegas. Overall, Daniel was one of just nine athletes that completed a city finals course that season. On Stage One, he cleared with the third fastest time of 47.96 seconds. on Stage Two, however, he was one of many to fail on Wingnut Alley.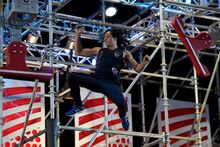 | ANW | # | Result | Notes |
| --- | --- | --- | --- |
| ANW 7 | | Failed Roulette Row (Second Stage) | Didn't go for reach. |
| ANW 8 | | Failed Ultimate Cliffhanger (Third Stage) | Transition to sixth ledge. |
| ANW9 | | Failed on Wingnut Alley (Second Stage) | Transition to landing platform |