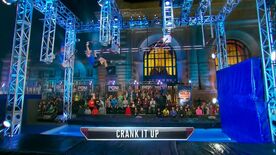 The Crank It Up is an obstacle, firstly introduced as the fourth obstacle on American Ninja Warrior 9 in Kansas City.
It consisted of three sets of separate handles, and a laché bar after the third set of handles. On this obstacle:
Competitors must jump to the first set of handles and crank the handles up and back until the handles moved forward, allowing them to advance by making a transition to the second set of handles.
The second set of handles moved in a similar fashion with the first one, and after completing the second set of handles, competitors must make a transition to the third set of handles.
The third set of handles moved up, but stop at 90 degrees (at the very top).
From there, competitors must make a transition to the laché bar, and then to the landing platform to advance.
This obstacle was proven to be a massive toll on the upper-body strength, with many competitors tuckering out halfway through on the second or third handles. To prevent the fatigue of the muscle, many competitors had needed to get a strong transition to conserve arm energy. During Kansas City qualifiers, 35 competitors failed on this obstacle, and no female competitor could get past it. The obstacle also became the cut off for advancing to Kansas City finals.
During Kansas City finals, the obstacle was modified with the removal of the second set of handles (for a total of two sets of handles), thus increasing the distance to be jumped between the sets of handles. Although only 5 competitors fell on the obstacle, the Crank It Up was one of the obstacle that contributed to Kansas City finals' zero finishers (along with the Broken Pipes, Bar Hop, and Floating Monkey Bars), which was the second time in American Ninja Warrior history (after Philadelphia finals on American Ninja Warrior 8).
Competitors' Success Rate
All results based on the NBC broadcast and external information found
| ANW | Clears | Attempts | Percentage |
| --- | --- | --- | --- |
| ANW9 (qualifiers) | 25 | 60 | 41.67% |
| ANW9 (finals) | 21 | 26 | 80.79% |
| Total | 46 | 86 | 53.48% |
Trivia
The Crank It Up was one of the eight obstacles that won the American Ninja Warrior: Obstacle Design Challenge, and was designed by Kevin Brekke, who then hired to become a professional obstacle designer on ATS (the company that builds the obstacles for American Ninja Warrior).