Crank It Up is a new obstacle that was introduced in Kansas City on American Ninja Warrior 9. It is one of the fan-designed obstacles this season, submitted by Kevin Brekke. He was able to try out the obstacle on ANW's "Crashing the Course", as shown in the video below.
Competitors must jump to two separate handles and crank the handles up and back until the handles move forward, allowing them to advance via a lache to the second set of handles. The second set moves in a similar fashion, and fall forward towards the third set of handles. The third set crank up but stop at 90 degrees (at the very top). From here, ninjas must lache to a regular bar underneath and in front of the third set of handles. In the City Finals, the obstacle only had two handles with the second one stopping at the top (90 degrees)
The obstacle proved to be a massive toll on upper body strength, with many ninjas tuckering out halfway through on the second or third handles. To prevent muscle fatigue, many athletes had needed to get a strong lache to conserve arm energy. As shown by Natalie Duran in "Crashing the Course", it was recommended for athletes to get a good kip so that they could advance through the handles fluently. This was the farthest any woman in Kansas City qualifying could get to.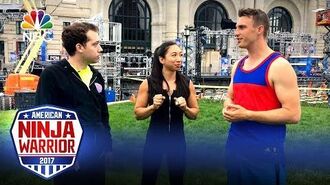 Ad blocker interference detected!
Wikia is a free-to-use site that makes money from advertising. We have a modified experience for viewers using ad blockers

Wikia is not accessible if you've made further modifications. Remove the custom ad blocker rule(s) and the page will load as expected.