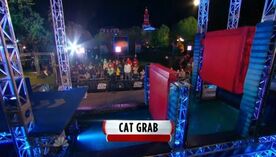 The Cat Grab is an obstacle, firstly introduced as the second obstacle on American Ninja Warrior 6 in Denver. Competitors must jump to the first wall, then jump to the next wall, and then jump to the landing platform.
During the broadcast of American Ninja Warrior 7's Kansas City qualifiers, it was revealed that one competitor (Dennis Lappin), suffered a severe injury from this obstacle. While jumping to the first wall, his right leg hit the wall very hard, resulting a ruptured achilles, and needed six months to recovery.
Ad blocker interference detected!
Wikia is a free-to-use site that makes money from advertising. We have a modified experience for viewers using ad blockers

Wikia is not accessible if you've made further modifications. Remove the custom ad blocker rule(s) and the page will load as expected.