The Cannonball Drop is an obstacle, firstly introduced as the second obstacle on American Ninja Warrior 9 in Los Angeles.
Competitors must grab onto a 16-inch diameter cannonball, and ride it down a slightly steeped track, with two drops that would test the grip strength of the competitors. During Los Angeles qualifiers, the obstacle took out 28 competitors, as well as 5 more competitors during Los Angeles finals.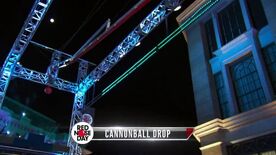 The Cannonball Drop was attempted early during Celebrity Ninja Warrior: Red Nose Day. However, the number of the drops on the track was reduced from two to just one, in order to make the obstacle easier for celebrity competitors. Among the 9 celebrity competitors who attempted it, only Nikki Glaser failed to complete it.
The Cannonball Drop returned on American Ninja Warrior 10, as the second obstacle during Indianapolis qualifiers, with the obstacle took out 32 competitors, including most shockingly, Lorin Ball. Coincidentally, Indianapolis qualifiers course also featured the Block Run as the fourth obstacle, in which both obstacles were used in Los Angeles course on the previous season.
Later on the same season, the Cannonball Drop reappeared as the second obstacle during Miami finals, replacing the Fly Wheels during Miami qualifiers. The obstacle also swapped place with the Fly Wheels, which replaced the Cannonball Drop during Indianapolis finals. Coincidentally, both the Cannonball Drop and Fly Wheels were used in Los Angeles course on the previous season.
Competitors' Success Rate
All results based on the NBC broadcast and external information found
| ANW | Clears | Attempts | Percentage |
| --- | --- | --- | --- |
| ANW9 (qualifiers) | 77 | 105 | 73.33% |
| ANW9 (finals) | 28 | 33 | 84.85% |
| ANW10 (Indianapolis) | 72 | 104 | 69.23% |
| ANW10 (Miami) | | | |
| Total | 177 | 242 | 73.14% |