The Butterfly Wall (バタフライウォール) was a first stage obstacle introduced in SASUKE 14 and SASUKE 15 as the second obstacle. In order to advance, competitors had to jump and grab onto a padded wall that spun around a central vertical axis to reach the platform on the other side. Only six competitors failed it in its two-tournament span and it was removed after SASUKE 15.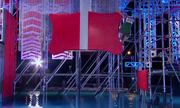 In American Ninja Warrior 6, the Butterfly Wall appeared, replacing the Balance Tank as the fourth obstacle in Stage 2. Unlike the Sasuke version, the rotating wall was shaped more like butterfly wings with rounded corners and inclined ledges and was situated much higher up in relation to the platform, requiring a more accelerated and higher jump. It took out any competitor who was shorter than average, or had a bad run up. In American Ninja Warrior: USA vs. The World, Morimoto Yūsuke failed the obstacle due to his shorter height, as he could not reach the top of the wall.
Competitor's Success Rate
| SASUKE | Clears | Attempts | Percentage |
| --- | --- | --- | --- |
| 14 | 43 | 46 | 92.48% |
| 15 | 27 | 30 | 92.16% |
| Total | 70 | 76 | 92.36% |
Ad blocker interference detected!
Wikia is a free-to-use site that makes money from advertising. We have a modified experience for viewers using ad blockers

Wikia is not accessible if you've made further modifications. Remove the custom ad blocker rule(s) and the page will load as expected.