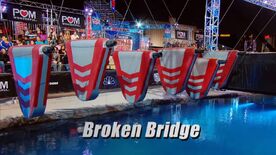 The Broken Bridge is an obstacle, firstly introduced as the seventh obstacle in Stage One on American Ninja Warrior 8, replacing the Coin Flip from the previous season. It contained of six unstable hanging triangles, with gaps ranging from 2 feet to 3.5 feet. The triangles were hung at slightly different heights, with every other triangle being a bit higher. Only one competitor (Chris Boehm) failed on this obstacle. Due the low knockout rate, similar to the Coin Flip, the obstacle was replaced by Domino Pipes on the next season.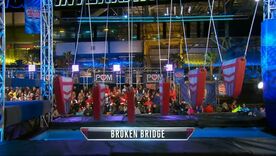 The Broken Bridge returned as the fourth obstacle on American Ninja Warrior 9 in Daytona Beach. Two modifications were made on this obstacle, compared to the previous season. Firstly, rather than being staggered up and down, the triangles were rearranged in a skewed pattern. Secondly, the cables between the triangles were removed, so they would swing independently (rather than as a whole). As the result, 6 competitors fell on this obstacle during Daytona Beach qualifiers, as well as one competitor during Daytona Beach finals. 
Ad blocker interference detected!
Wikia is a free-to-use site that makes money from advertising. We have a modified experience for viewers using ad blockers

Wikia is not accessible if you've made further modifications. Remove the custom ad blocker rule(s) and the page will load as expected.