Brian Kretsch is an American Ninja Warrior contestant who has competed on all nine seasons of the show. On Season 1, he became the first person to ever run the Semi-Finals course, but shockingly failed an obstacle he cleared in the previous round, the Pipe Slider. This was the end to his rookie season, but the experience taught him many things, as well as fostered many ninja friendships. Most notably, that of David Campbell.
In between Season 1 and Season 2, Brian Kretsch and David Campbell built the first full Ninja Warrior training course in the USA. The course drew competitors from across the country to Santa Cruz, CA, where they perfected their skills and grew their friendships. Their efforts also inspired most other "backyard courses" and training facilities. Brian and David continued to expand the course and training techniques, which they've passed on to others, until June 2012, when the course had to be dismantled. Many of the obstacles ended up being relocated to Brian's backyard in the East Bay, CA.
On Season 2, Brian was overconfident due to all of his training on the Santa Cruz course. He tried to speed through the preliminary course, but ended up failing the third obstacle, which was the Bridge of Blades.
Season 3 proved to be Brian's worst showing to date. He failed the very first obstacle, the Quad steps on the preliminary course. There was some controversy that year, as the weather had played an unfortunate roll in many competitors fails due to rain.. After failing, Brian went on to be a tester for the Bootcamp portion of the season along with Evan Dollard, Ryan Cousins, and Sean Morris.
He competed again in American Ninja Warrior 4, and completed the Northwest Qualifying and Northwest Finals courses, earning a spot at the first ever Las Vegas Finals course. Unfortunately he couldn't repeat that performance at Mt. Midoriyama, where he failed the Jumping Spider.
On American Ninja Warrior 5, he cleared the Venice City Qualifiers, but failed the Cliffhanger in the City Finals. This was enough to get him to the Las Vegas Finals again, however he repeated his previous performance and failed the Jumping Spider for the second year in a row.
Then in American Ninja Warrior 6, he competed in the Venice Qualifiers again, this time as a walk-on. His qualifying run was cut, but it was known that he went out on the Monkey Peg. But that was enough to make it in to the Top 30. In the Venice Finals, he made it past the first 6 obstacles and the Salmon Ladder, but went out on Cannonball Alley. However, that was good enough to make it back to Vegas. In Vegas, his run was digested, but this time he made it past the Jumping Spider. He almost cleared Stage 1, but went out on the Spin Bridge. Also, none of the other Venice Qualifiers were able to make it farther in the First Stage than the Spin Bridge.
In American Ninja Warrior 7, he competed in the Venice Qualifiers yet again. But this time, he competed along with his sister Shannon. He was strong through the first 2 obstacles, however at the end of the Tilting Table/Balance Bridge, he injured his knee and was in critical condition. But, he didn't give up and managed to clear the 4th obstacle, Spin Cycle. The Hourglass Drop proved to be too much for his knee as he immediately grabbed it in pain when he hit the trampoline. He then refused to go to the hospital so that he could watch Shannon compete. (Shannon failed the Spin Cycle). Kretsch didn't make it into the City Finals by placing 34th place with 6 people behind him making it there. According to his social media, he ended up fracturing his leg in three places right below the knee. He was later seen in San Pedro supporting Dustin McKinney and Ryan Stratis, and was shown to be in crutches as his knee hadn't recovered yet.
Kretsch returned in American Ninja Warrior 8 after his leg recovered from last season. It was revealed that he was also running for his mother, who had breast cancer last year as well. Kretsch was able to finish the Los Angeles qualifying course with a time of 4:45.30, but had a heartbreaking fall on the Escalator in the finals when he jumped too early and bounced into the water. Kretsch placed 27th overall.
In American Ninja Warrior 9, he yet again competed in the Los Angeles region. Unfortunately he had once again failed on a balance obstacle, this time being the Block Run. It was the third year in a row that he had failed to make it to Las Vegas. Additionally, SASUKE star Nagano Makoto made a cameo before his run, visiting Los Angeles.
| Season | Results | | Notes |
| --- | --- | --- | --- |
| ANW4 | Failed Jumping Spider (First Stage) | | Couldn't lock his feet in. |
| ANW5 | Failed Jumping Spider (First Stage) | | |
| ANW6 | Failed Spinning Bridge (First Stage) | | Lost his footing and sliped. |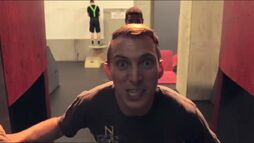 Ad blocker interference detected!
Wikia is a free-to-use site that makes money from advertising. We have a modified experience for viewers using ad blockers

Wikia is not accessible if you've made further modifications. Remove the custom ad blocker rule(s) and the page will load as expected.