Brent Steffensen (ブレント・ステッフェンセン) is a stuntman and veteran competitor in SASUKE and American Ninja Warrior.
American Ninja Warrior 2
Brent First competed in ANW 2  and cleared qualifying but in the Semi Finals failed on the Salmon Ladder but his time was fast enough for Boot Camp. And he got through Boot Camp as well being one of only 6 rookies to make it to Japan.
SASUKE
Steffensen qualified for SASUKE 26 by making it through American Ninja Warrior 2. There, he was one of five Americans to clear Stage One with 8 seconds left, the 4th fastest time set by an American in that competition. He was also one of four Americans to clear Stage Two impressing many when he cleared the Second Stage with 21.5 seconds left on the clock. He was one of four competitors that day to go out on the Ultimate Cliffhanger where his strength gave way on the third ledge . His onscreen graphic lists his start position as #62, but in actuality his start position was in the mid-70s.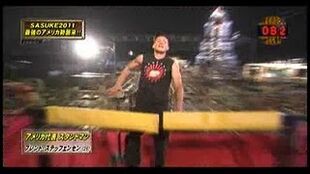 Steffensen then competed in American Ninja Warrior 3 and successfully qualified for SASUKE 27. There, despite slipping on the Spin Bridge, he once again cleared the First Stage, this time with over 32 seconds left on the clock. In the Second Stage, he nearly lost his balance and fell on the Balance Tank but managed to clear it successfully. However, on the Metal Spin, he lost his grip and fell there.
Steffensen competed in SASUKE 32 alongside Kacy Catanzaro and Drew Drechsel, wearing 62, where once again he cleared the First Stage, being the first competitor to do so, with 11.25 seconds remaining after several timeouts from previous competitors. He was thus the first to attempt the upgraded Second Stage. He cleared every obstacle efficiently, including the re-introduced Gyakusō Conveyor that failed to slow him, then managing to quickly lift and squeeze through all three walls of the Wall Lifting, and cleared with 25.66 seconds remaining, 6 more seconds left than the fastest stage time in the previous tournament set by Morimoto Yūsuke. On the Third Stage, Steffensen managed to clear the first two obstacles with ease, however, on the modified Sidewinder R, he nearly lost his grip on the second and third pole as they now drop when a competitor transitions to them. He managed to clear the obstacle but it had sapped his energy, contributing to his fail on the first transition on the new Ultra Crazy Cliffhanger, where he got enough momentum on the jump and touched the second ledge however did not get a grip on to it. He came in second in that tournament only being beaten by fellow teammate Drew Drechsel.
American Ninja Warrior
In American Ninja Warrior 4, Steffensen made it to the inaugural American version of Mt. Midoriyama, and was the only person to pass Stage 2, hitting the buzzer with a slim 0.03 seconds left on the clock. He made it all the way to Stage 3, and became the first American to complete the Ultimate Cliffhanger. However, his victory was short lived, as he ended up falling on the Hang Climb. He celebrated by jumping in the water when he got past everyone else.
In American Ninja Warrior 5's Venice Qualifying, he got hung up on the Floating Chains, but completed the obstacle. Even though he was completely drained, he completed the last third of Qualifying and advanced. In the Venice finals, however, he was quickly defeated by the Salmon Ladder when he took too long to start climbing. He was a wildcard for Vegas, and made up for his Venice fail by gaining the 5th fastest time. Unfortunately, history repeated itself as he failed the Double Salmon Ladder in Stage 2, when he completed the transition, but, unlike the Venice finals, he went too fast to continue climbing, resulting in the right side not landing properly. Everyone, including Brent was shocked.
In American Ninja Warrior 6, Brent competed in the Dallas Qualifying. There he competed alongside his girlfriend Kacy Catanzaro. He was quick to defeat the first 4 obstacles, however he had trouble on the new obstacle the Ring Toss. He accidently got both rings stuck on a peg and he tried to clear the obstacle, but eventually fell in the water. Then to the shock of everyone, he didn't make it into the Top 30, just getting 31st place and getting beat by Dillon Gates, a person that he trains with and is also friends. He was later seen in the Dallas Finals cheering on Kacy during her run.
In American Ninja Warrior 7, Brent was on a mission for redemption after a weak past 2 seasons. He competed in the Houston Qualifiers with Kacy again. This time he finished the course and placed the 2nd fastest time moving into the city finals. He got his revenge on the Salmon Ladder, which took him out in Season 5, but was one of the many to fall on the Walking Bar. Despite that however, he placed 8th and was able to advance to Vegas without being a wildcard this time. In Vegas, Brent was the final runner to go and despite almost slipping on Sonic Curve, he recovered and finished Stage 1 with a record breaking 51 seconds (which would be broken two tournaments later). However he had trouble with Stage 2 being slow and spending a lot of energy on the Rope Jungle, using 40 seconds to complete it and rest before the Double Salmon Ladder and then failing the transition to the first Unstable Bridge and thus failing Stage 2.
In American Ninja Warrior 8, Brent competed in the Oklahoma Region once again with Kacy (whom he was revealed to no longer be dating). He was doing good in the Qualifiers completing the first 4 obstacles, but shocked everyone when he failed the Bar Hop. This is the second time in which he failed on a Qualifying course. But he still made it into the top 30, getting 22nd place. Steffensen later completed the Bar Hop in the finals, as he remembered to use the reverse grip to secure himself on the bar. While he was able to complete the Bar Hop, his grip strength ran out on Bungee Road. However, Steffensen once again advanced to Vegas, placing 10th. In Vegas, he once again failed to hit a button as he shockingly was one of many competitors who failed the new Giant Log Grip. This is currently the only time that he had failed on Stage 1 in either Vegas or SASUKE.
In American Ninja Warrior 9, Steffensen competed in the San Antonio Qualifying which is also his hometown, though he struggled with the Pipe Fitter, he completed the course as the 11th fastest finisher with the home crowd behind him. In the City Finals, he had less difficulty with the Pipe Fitter and cleared the new obstacle, the Spinball Wizard with ease and made it all the way to the Elevator Climb until his grip gave out but was still able to advance to the Vegas Finals having finished in 4th place. In the Vegas Finals, Steffensen's Stage 1 run was digested, but cleared with ease and with 33.66 seconds left. On Stage Two, Steffensen struggled on the Giant Ring Swing and ended up falling from the Wave Runner due to fatigue.
Team Ninja Warrior
On Team Ninja Warrior, Brent didn't do as good as he thought he would, as in round 1 Brent lost to Ryan Stratis. Then in round two, with his team up at two to nothing, he had a slight slip on the warped wall and lost to Kevin Bull. During sudden death, he had a clumsy slip on the Dancing Stones as he tried to rush to catchup with Kevin Bull. And with Kacy Catanzaro besting him again.

On Team Ninja Warrior 2, history repeated itself as Brent once again let his team down by losing three races. In his first run he lost to Karsten Williams despite him being fast on the Fly Wheels. In his second race he had a chance of sending his team to the relay showdown though lost to Joe Moravsky. In sudden death he elected himself to run and then lost.
SASUKE Results
| SASUKE | # | Result | Notes |
| --- | --- | --- | --- |
| 26 | 74 | Failed Ultimate Cliffhanger (Third Stage) | Digest. Third Ledge. |
| 27 | 79 | Failed Metal Spin (Second Stage) | |
| 32 | 62 | Failed Ultra Crazy Cliffhanger (Third Stage) | First Transition |
ANW Results
ANW
#
Result
Notes
ANW4
71
Failed Hang Climbing (Third Stage)
First American to beat the Ultimate Cliffhanger.
ANW5
85
Failed Double Salmon Ladder (Second Stage)
Transition to seventh rung.
ANW7
100
Failed Unstable Bridge (Second Stage)
Transition to the first bridge.
ANW8
Failed Giant Log Grip (First Stage)
ANW9
Failed Wave Runner (Second Stage)
Ad blocker interference detected!
Wikia is a free-to-use site that makes money from advertising. We have a modified experience for viewers using ad blockers

Wikia is not accessible if you've made further modifications. Remove the custom ad blocker rule(s) and the page will load as expected.