Brent Steffensen
Talk

0
884pages on
this wiki

Brent Steffensen (ブレント・ステッフェンセン) is a stuntman who qualified for SASUKE 26 by making it through American Ninja Warrior 2. There, he was one of a record five Americans to clear Stage One and a record four Americans to clear Stage Two. He was one of four competitors that day to go out on the Ultimate Cliffhanger. His onscreen graphic lists his start position as #62, but in actuality his start position was in the mid-70s.
Though his whole run was digested, his overall results are still known. He cleared the First Stage with 8 seconds left, the 4th fastest time set by an American in that competition. He then impressed many when he cleared the Second Stage with 21.5 seconds left on the clock. His run on the Third Stage was great up to the Ultimate Cliffhanger, where his strength gave way on the third ledge.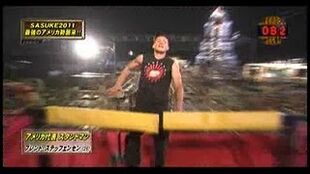 Steffensen then competed in American Ninja Warrior 3 and successfully qualified for SASUKE 27. There, despite slipping on the Spin Bridge, he once again cleared the First Stage, this time with over 32 seconds left on the clock. In the Second Stage, he nearly lost his balance and fell on the Balance Tank but managed to clear it successfully. However, on the Metal Spin, he lost his grip and fell there.
In American Ninja Warrior 4, Steffensen made it to the inaugural American version of Mt. Midoriyama, and was the only person to pass Stage 2, hitting the buzzer with a slim 0.03 seconds left on the clock. He made it all the way to Stage 3, and became the first American to complete the Ultimate Cliffhanger. However, his victory was short lived, as he ended up falling on the Hang Climbing. He celebrated by jumping in the water when he got past everyone else.
In American Ninja Warrior 5's Venice Qualifying, he got hung up on the Hang Move, but completed the obstacle. Even though he was completely drained, he completed the last third of Qualifying and advanced. In the Venice finals, however, he was quickly defeated by the Salmon Ladder when he took too long to start climbing. He was a wildcard for Vegas, and made up for his Venice fail by gaining the 5th fastest time. Unfortunately, history repeated itself as he failed the Double Salmon Ladder in Stage Two, when he completed the transition, but, unlike the Venice finals, he went too fast to continue climbing, resulting in the right side not landing properly. Everyone, including Brent was shocked.
| SASUKE | # | Result | Notes |
| --- | --- | --- | --- |
| 26 | 74 | Failed Ultimate Cliffhanger (Third Stage) | Digest. Third Ledge. |
| 27 | 79 | Failed Metal Spin (Second Stage) | |
| ANW4 | 71 | Failed Hang Climbing (Third Stage) | First American to beat the Ultimate Cliffhanger. |
| ANW5 | 85 | Failed Double Salmon Ladder (Second Stage) | Transition to seventh rung |