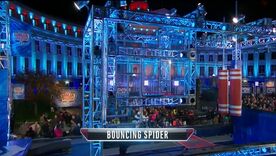 The Bouncing Spider is an obstacle that was first introduced as the third obstacle on American Ninja Warrior 9 in Denver.
Competitors have to jump to a springboard and prop themselves between two Plexiglas walls, make a transition to another pair of Plexiglas walls, which are a few inches away from the first.
Then, they must jump to an 8-foot drop to a trampoline and must grab to one of the two big suspended pipes with a small pipe suspended in front of them and swing up to the landing platform.
The first part of this obstacle (the springboard and the Plexiglas walls) is very similar to the Jumping Spider, while the second part of this obstacle (the trampoline and the pipes) is very similar to the Wall Drop.
During Denver qualifiers, a total of 27 competitors failed on this obstacle, including notable competitors like Jake Murray, Noah Kaufman and Jon Stewart. Most of the competitors failed the landing on the trampoline, to where they mainly weren't able to get an effective bounce to grab the pipes. Some competitors additionally grabbed just the smaller pipe, which didn't grant them much to grab on.
However, during Denver finals, the Bouncing Spider only eliminated Ian Weber and Tammy McClure (both of them were able to get past this obstacle during Denver qualifiers).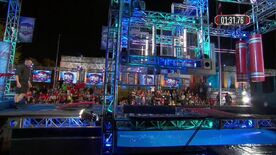 On American Ninja Warrior 10, the Bouncing Spider appeared as the third obstacle in Dallas. During Dallas qualifiers, the obstacle was proven to be deadly once again, with 22 competitors fell on this obstacle. However, unlike during Denver qualifiers, it took out several female competitors, taking out Kat Ratcliff, Tawnee Leonardo, and both Haymaker sisters (Kaiti Haymaker and Cara Haymaker). Though his run was not shown during the broadcast, the Bouncing Spider also eliminated Sam Sann, who completed this obstacle on the previous season during Denver qualifiers and finals. This obstacle was also the cut off for the female competitors in advancing to Dallas finals.
On the contrary, two competitors who failed on this obstacle during Denver qualifiers on the previous season, Jon Stewart and Venn Johns, were able to complete it during Dallas qualifiers.
Competitors' Success Rate
All results based on the NBC broadcast and external information found
| ANW | Clears | Attempts | Percentage |
| --- | --- | --- | --- |
| ANW9 (qualifiers) | 40 | 67 | 59.70% |
| ANW9 (finals) | 28 | 30 | 93.33% |
| ANW10 (qualifiers) | 48 | 70 | 68.57% |
| ANW10 (finals) | | | |
| Total | 116 | 167 | 69.46% |