The Body Prop (ボディプロップ) was an obstacle introduced into SASUKE's Third Stage following Akiyama Kazuhiko's kanzenseiha in SASUKE 4.
Its function was similar to the Spider Walk, but because the walls were considerably farther apart, competitors had to wedge themselves between two wall panels and cross five meters while facing downward with their hands on one panel and their feet on the other. Along the way, there were gaps which made the obstacle even more difficult.
This obstacle was proven to be a deadly obstacle in the Third Stage, as it took out at least one person in 11 out of 13 tournaments in which it was in the Third Stage.
It was removed from the Third Stage following Nagano Makoto's kanzenseiha in SASUKE 17. It should also be noted that during its last tournament appearance, it eliminated three highly skilled competitors, in which two of them were SASUKE All-Stars: Yamamoto Shingo and Shiratori Bunpei, more competitors than any other obstacle in the Third Stage during that tournament.
In SASUKE 35, a similar obstacle was introduced in the form of the Planet Bridge, where the wall in which the competitors must put their hands onto was replaced with a series of spheres, while the wall for the footholds moved back and forth automatically and continuously by 20cm.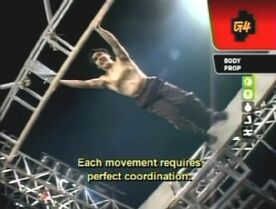 American Ninja Warrior Appearances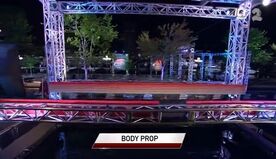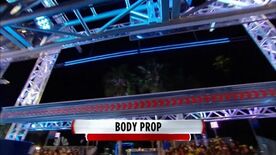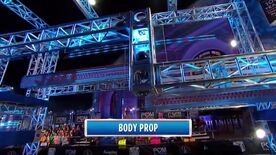 The Body Prop appeared as the eighth obstacle on:
The obstacle used on American Ninja Warrior 5 and 6 was similar to the Body Prop from SASUKE.
An improved version was used on American Ninja Warrior 7. Instead of gaps, competitors needed to go down a 4-foot vertical section at the midway of the obstacle.
This version of the Body Prop was proven to be deadly than the previous version, as among the 16 competitors who attempted the obstacle, only 3 of them could complete it (Brendan Couvreux, Ian Dory, and Lance Pekus). The obstacle also took out Isaac Caldiero, which prevented him to have a perfect season, by completing all the obstacles from that season during city qualifiers, city finals, and Las Vegas national finals (Stage One to Stage Four).
Curved Body Prop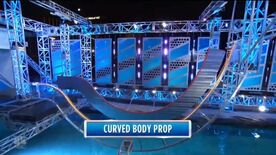 On American Ninja Warrior 8, the Body Prop appeared as the fourth obstacle in Stage Three, after the modified Ultimate Cliffhanger. It was a curved version of the Body Prop (renamed as the Curved Body Prop), which was 30 feet in length, with a 6 feet descent and a 10 feet ascent. Only Drew Drechsel attempted this obstacle and completed it on that season.
During USA vs. The World 3, 6 competitors attempted the obstacle, and 2 of them failed to complete it (Santiago de Alba from Team Latin America and Sean McColl from Team Europe).
The Curved Body Prop returned on American Ninja Warrior 9, as the fifth obstacle in Stage Three, once again after the Ultimate Cliffhanger, with a similar specification from the previous season. Only Joe Moravsky attempted this obstacle and completed it on that season.
Competitors' Success Rate
All results based on the TBS/NBC broadcast and external information found
SASUKE
| SASUKE | Clears | Attempts | Percentage |
| --- | --- | --- | --- |
| 5 | 1 | 1 | 100% |
| 6 | 2 | 5 | 40% |
| 7 | 3 | 4 | 75% |
| 8 | 3 | 4 | 75% |
| 9 | 3 | 3 | 100% |
| 10 | 3 | 4 | 75% |
| 11 | 5 | 7 | 71.43% |
| 12 | 9 | 10 | 90% |
| 13 | 4 | 5 | 80% |
| 14 | 6 | 9 | 66.67% |
| 15 | 5 | 6 | 83.33% |
| 16 | 7 | 8 | 87.5% |
| 17 | 4 | 7 | 57.14% |
| Total | 55 | 73 | 75.34% |
American Ninja Warrior
Gallery