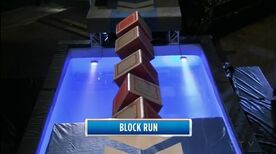 The Block Run is an obstacle, firstly introduced as the third obstacle on American Ninja Warrior 8 in Atlanta. Competitors must run across 5 tilted cubes on a horizontal pole that roll and slide under the competitors' feet.
During Atlanta finals, the middle block was removed. While it didn't take out any competitors, many competitors did stumble on the obstacle.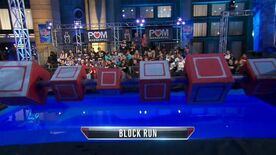 The Block Run returned on American Ninja Warrior 9, as the fourth obstacle in Los Angeles. However, the number of blocks was increased to 6, and each block varied in size. The obstacle notably took several notable competitors, which included Brian Kretsch, Ben Melick, Selena Laniel, and Travis Brewer. In the end, however, only 13 competitors failed it in total and no competitor failed on it during Los Angeles finals.
This version of the Block Run was attempted early during Celebrity Ninja Warrior: Red Nose Day. Among the 9 celebrity competitors who attempted it, only Natalie Morales and Nikki Glaser failed.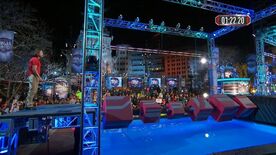 On American Ninja Warrior 10, the Block Run appeared as fourth obstacle in Indianapolis, and the obstacle remained unchanged from the previous season. Coincidentally, Indianapolis qualifiers course also featured the Cannonball Drop as the second obstacle, in which both obstacles were used in Los Angeles course on the previous season.
The obstacle eliminated several top competitors once again, including Jody Avila, Brandon Mears, and Josh Butler, and quickly became more dangerous than during the past 2 American Ninja Warrior seasons, as 19 competitors failed on it. Although he was able to clear the obstacle with ease, the first American Ninja Warrior champion, Isaac Caldiero, notably had to take a breath before attempting the obstacle.