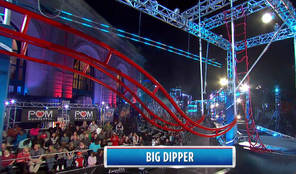 The Big Dipper is an obstacle that appeared as the second obstacle on American Ninja Warrior 7 in Kansas City. It consisted of a metal pipe on a track and rope ladder. Competitors held on to the pipe and slid down the track, and timed their release in order to grab the rope ladder and pulled themselves onto the mat. Some competitors who didn't time their release right, did not go far enough to reach the rope ladder. The Big Dipper was considered to be a modified version of the Downhill Pipe Drop from American Ninja Warrior 6 in Miami. This obstacle took out 42 competitors during Kansas City qualifiers, including several female competitors like Amy Pajcic, Laura Kisana, and Kirsti Pratt. In Kansas City finals, it took out Meagan Martin. Though it wasn't shown during the broadcast of Kansas City finals, the Big Dipper took out one more competitor (Spencer Mestel), meaning in total, 44 competitors had been taken out by this obstacle.
The Big Dipper made its second appearance on American Ninja Warrior 8 in Atlanta, once again as the second obstacle. Similar to the previous season, this obstacle took out many competitors, including veterans Shaun Murray and JJ Woods. As it wasn't difficult enough, this obstacle was modified in Atlanta finals, where the cargo net was removed, requiring competitors to fly across it without hesitation. The track was also made a foot longer. It took out a total of 4 out of 30 competitors, notably fan favorites like Kenneth Niemitalo and Caleb Watson.
Ad blocker interference detected!
Wikia is a free-to-use site that makes money from advertising. We have a modified experience for viewers using ad blockers

Wikia is not accessible if you've made further modifications. Remove the custom ad blocker rule(s) and the page will load as expected.