Barclay Stockett is a gymnastics coach from Texas. She first competed in American Ninja Warrior 8 and like many other competitors that night, she failed the Log Runner.
In her second appearance, Barclay competed in the San Antonio qualifiers She winded up failing the Pipe Fitter in qualifying but she had the top spot in the women's top 5 plus she grabbed the final spot in the top 30. In the city finals, Barclay got her revenge on the Pipe Fitter and became the shortest athlete to scale the 14 1/2 ft. warped wall. On the back half of the course, Barclay cleared the Salmon Ladder, but she winded up failing the Hourglass Drop. However, she did get the top spot in the women's top 2 and advanced to the national finals in Las Vegas.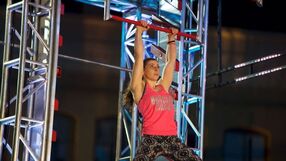 Ad blocker interference detected!
Wikia is a free-to-use site that makes money from advertising. We have a modified experience for viewers using ad blockers

Wikia is not accessible if you've made further modifications. Remove the custom ad blocker rule(s) and the page will load as expected.