Arashida Ryoichi (嵐田 良一) is the President of Nagai Road Cutter Ltd., a concrete and asphalt cutting construction company, who has competed twice, in SASUKE 23 and in SASUKE 29.
Beginning
Arashida first wanted to compete in SASUKE around the year 2000. However at that time, he had just started his company and had too much work to seriously train. Over the next ten years, Arashida built his company and and body, training for SASUKE along the way. His first attempt to make it onto the show was for SASUKE 20 in 2008.
Arashida Park
Arashida lives in Yamagata Prefecture in Japan, roughly 350km (about 220 miles) north of Tokyo. Yamagata is a heavy snowfall area, and much of the winter months are under snow. Therefore, Arashida rents out a warehouse for 1 million yen per year and builds many SASUKE replicas there. All of the obstacles cost about 4 million yen and took about three months to build with the help of an employee in Arashida's company. The park is called Arashida Park and is a popular training ground for Arashida and many other SASUKE qualifiers such as the Unlimited Cliffers, Kanno Hitoshi, and more. Obstacles in Arashida Park include:
Shin-Cliffhanger
Soritatsu Kabe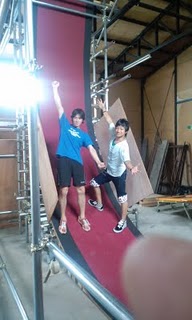 Jumping Spider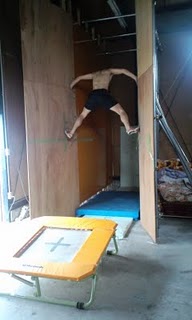 Qualifying and Competition History
Arashida first attempted to compete in SASUKE 20. He was one of thousands to send in an application to TBS, but was not selected. Arashida then competed in the SASUKE 21 Trials. He could not send in an application to SASUKE 22 due to work, but sent one in for SASUKE 23 and was selected to compete.
In the competition, he wore #59. However, he was all cut from the TBS broadcast but it is known that Arashida timed out on the Soritatsu Kabe.
Other Photos (Courtesy of Arashida Ryoichi)
Results
| SASUKE | # | Result | Notes |
| --- | --- | --- | --- |
| 23 | 59 | Failed Soritatsu Kabe (First Stage) | All Cut. Time Out |
| 29 | 40 | Failed Hedgehog (First Stage) | All Cut |
| 31 | 77 | Failed Log Grip (First Stage) | All Cut |
Ad blocker interference detected!
Wikia is a free-to-use site that makes money from advertising. We have a modified experience for viewers using ad blockers

Wikia is not accessible if you've made further modifications. Remove the custom ad blocker rule(s) and the page will load as expected.