Arai Kenichi (新井 健一) is a ULS Swimming School instructor who has attempted SASUKE four times, getting the farthest in his first effort. In his first tournament in SASUKE 10, he cleared the First Stage with just 0.7 seconds left. In the Second Stage, he failed the Spider Walk when he tried to exit the obstacle. It is known that he competed three more times, failing the First Stage each time. During the time of SASUKE 11, he held a SASUKE training camp with fellow competitors Hibari and Ījima Toyohisa at his house.
Now 43, Arai still trains for SASUKE, as he beat the SASUKE Park course at Muscle Park (which contains the obstacles the Arm Bike, Shin-Cliffhanger, Salmon Ladder, and Arm Rings) in September 2008. Recently, he trained with Urushihara Yuuji, Noguchi Yuichiro, and Yahagi Makoto.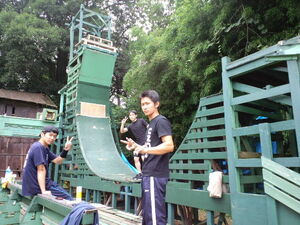 Results
| SASUKE | # | Result | Notes |
| --- | --- | --- | --- |
| 10 | 978 | Failed Spider Walk (Second Stage) | |
| 11 | 75 | Failed Rolling Maruta (First Stage) | |
| 12 | 62 | Failed Jump Hang (First Stage) | Digest |
| 15 | | Failed Tarzan Rope (First Stage) | Time Out, All Cut. Timed out before he could reach the Tarzan Rope. |
Ad blocker interference detected!
Wikia is a free-to-use site that makes money from advertising. We have a modified experience for viewers using ad blockers

Wikia is not accessible if you've made further modifications. Remove the custom ad blocker rule(s) and the page will load as expected.