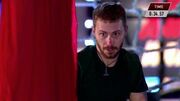 Andrew Karsen is an ANW competitor who competed in the first six seasons.
In ANW 1, he finished in 11th place in the finals, narrowly missing out on Japan.
In ANW 2, he finished the qualifying round in 1:06, enough for 30th place. In the finals, he failed the Cross Bridge after he had completed it before.
In ANW 3, he failed the Warped Wall in qualifying. This was because the platform at the end of the Jumping Bars was wet due to Ryoga Vee's fall.
In ANW 4, he got revenge on the Cross Bridge and Warped Wall and cleared the Midwest Qualifier in 1:00, which was the fastest time. He cleared the finals in 3:15, enough for 2nd place. In the Las Vegas Finals, he failed the Halfpipe Attack. This turned out to be his best overall result.
In ANW 5, he cleared the Baltimore Qualifier in 1:34, coming in 8th place. However he failed the Warped Wall in the finals, not qualifying for Vegas.
In ANW 6, he cleared the St. Louis Qualifier in 2:02, coming in 7th place. He cleared the finals in 4:24, earning 3rd place and advancing to Vegas for the second time and first time since ANW 4. However he was one of 28 people to fail the Silk Slider when he slipped off the landing area.
He has not competed since then, possibly due to being one of several veterans to not be called back.
ANW Results
4 - Failed Halfpipe Attack - First

6 - Failed Silk Slider - First
Ad blocker interference detected!
Wikia is a free-to-use site that makes money from advertising. We have a modified experience for viewers using ad blockers

Wikia is not accessible if you've made further modifications. Remove the custom ad blocker rule(s) and the page will load as expected.